Last season, Kansas City Chiefs head coach Andy Reid returned to Philadelphia to play the Eagles, a team he spent 14 years of his career (1999-2012) coaching.
He was asked on Wednesday how he was able to handle that.
"What I did—I just ordered a cheesesteak and then I went and coached," he said amusingly. "You just eliminate the clutter is what you do. That's it."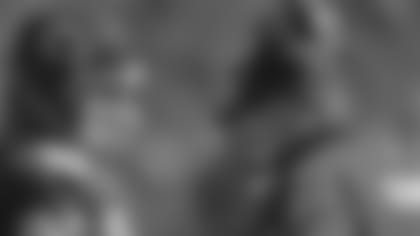 "Eliminating the clutter" are words of advice that could be beneficial to Chiefs quarterback Alex Smith, who this Sunday will face what his head coached experienced in 2013:
Competing against his old team.
Drafted first overall by the San Francisco 49ers in 2005, Smith spent the first eight years of his career in the bay area before being traded to the Chiefs in 2013.
During his time in San Francisco, he started 75 times. He completed more than 1,000 passes for more than 14,000 yards and more than 80 touchdowns.
He was the franchise quarterback.
But since then, that has changed. While still a franchise quarterback, he now plays for a different team, and Wednesday, he arrived at the University of Kansas Hospital Training Complex seeking to look past the distractions.
For him, his goal Sunday is simple, and one that in his mind outweighs what others may think is important.
"I'm trying to get a win," he said. "I could care less about the stats and out-dueling anybody. I guess the thing I'm talking about is I know this is going to be a story and you're going to have to deal with it."
"Yeah, I'm going back there and playing with some of those guys that I've played with, but there's a lot of unknown too," he explained. "It's a different place. Different stadium. A lot of new faces there as well so in some respects, it's different."
What Smith hopes won't be different is the quality of his play in San Francisco. While the building has changed (Candlestick Park closed in 2013 for Levi's Stadium), his record in the city is 30-17, a winning trend he will surely look to continue.
This season, though (like the Chiefs) the 49ers have won as many games as they have lost, their defense is almost unrivaled in the NFL. Against the run, they let up an average of 69.8 yards, second in the league. Against the pass, they only allow 217.5 yards, seventh in the league.
"It's a big challenge," he said. "They're a good defense, a good football team. I'm looking forward to that challenge and going out there and getting a W."
Smith returned to practice with the Chiefs Wednesday with that goal and that attitude in mind.
Sure, he's returning to a place he used to call home.
But more than that, and more than anything, he wants to win.
S Eric Berry (high ankle sprain) and WR Donnie Avery (groin strain) did not practice.
RB Jamaal Charles (ankle), LB Tamba Hali (ankle/knee) and CB Sean Smith (groin) were all limited.
RB De'Anthony Thomas practiced fully with the team. He has yet to play in a regular season game due to a lingering hamstring issue.
Back at practice on Wednesday at the University of Kansas Training Facility, Chiefs working on preparation for San Francisco