The St. Louis Rams and their defensive line finished with 53 total sacks for the 2013 season, the third best number in the NFL. Included in that margin was defensive lineman Robert Quinn's 19, which missed the league's top score by only a half a sack.
That has been much different in 2014, as through seven weeks, the Rams have just four sacks, three of which came in their game against the Seahawks last week. Quinn has just one.
But knowing better than the alternative, Kansas City Chiefs head coach Andy Reid wouldn't let his team forget what that Rams' front four is capable of.
"The hits on the quarterback have been there and their interceptions have been up a little bit," he explained in a press conference Wednesday. "They are still very efficient. This is a good defense."
Despite just the one sack this season, the most vicious player in the defense is no doubt Quinn, who leads his team in quarterback hits with seven.
"[He's] one of the best in the league," Reid said of Quinn. "He's fast, quick, relentless, elusive. He can get big and he can get small."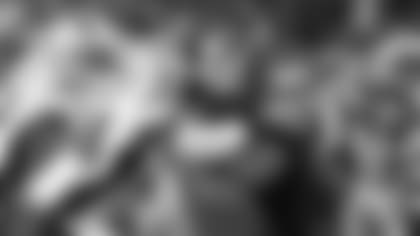 Chiefs left tackle Eric Fisher will be tasked with neutralizing Quinn Sunday in a role by now he's familiar with. Already this year, the second-year left tackle has been matched up against some of the most elite rushers in the league in DeMarcus Ware (Broncos), Chandler Jones (Patriots) and Justin Smith (49ers).
Seeing that success, Reid is maintaining confidence in his left tackle.
"It's a great test and he'll prepare himself out here," he said. "[He'll] get himself ready to play against a great football player."
Chiefs quarterback Alex Smith is also doing his part to be ready.
"You watch film and certainly they are very disruptive. The talent is there," Smith said of the defensive line. "Those guys can get after it."
An additional aspect of the Rams' game that the Chiefs will need to monitor is the ability of their special teams unit.
Last week against the Seattle Seahawks, special teams played a major role in the St. Louis victory. Stedman Bailey had a 90-yard punt return punt for a touchdown and then towards the end of the game, instead of kicking the ball to the Seahawks, punter Johnny Hekker faked the play and hit an 18-yard pass for a first down to seal the win.
"They made big plays and did a real nice job," Reid said of the unit. "When you play against a Jeff Fisher team, you know he's going to be ready on special teams for those type of things. He's done that over his history as a head coach and so, we'll make sure we do as much as we possibly can to work on those things.
"It's discipline. The main thing is you stay as disciplined as much as you can."
Discipline was one of the many items on the agenda as the Chiefs took the field Wednesday for their first practice in preparation for the St. Louis Rams.
In the NFL, playoff teams string wins together, and for the Chiefs to get themselves in the conversation as we already near the halfway point of the year, that will start with beating the Rams on Sunday.
WR Donnie Avery (groin), WR Junior Hemingway (hamstring) and Chris Owens (knee) did not practice.
S Eric Berry (ankle), TE Travis Kelce (ribs) and CB Sean Smith (groin) were limited.
RB Cyrus Gray (hand) and LB Justin Houston (ankle) participated in full team practice.
The team is back at work on the practice field on Wednesday