Linebacker Josh Mauga, who spent 2009-2013 with the New York Jets, was oft injured during his time there and by the end of his tenure, had recorded just 21 tackles across five seasons.
"Anytime you have injuries, it is frustrating," he told the media Wednesday.
Prior to joining the Chiefs, the last time Mauga played in an NFL game was in the Jets' fifth regular season matchup against the Houston Texans in 2012. During that game, he tore his pectoral muscle and was placed on injured reserve. Then in training camp in 2013, he hurt his back and sat out the entire season.
"I wasn't sure if I was going to get a chance to play again," he said.
With back-to-back season-ending injuries, there was never a guarantee.
And then the Chiefs called in July.
At first, they wanted Mauga to compete for a special teams role, but the training camp loss of inside linebacker Joe Mays and later in Week 1, Derrick Johnson, would change that.
Now, through eight weeks of the NFL season, Mauga is the Chiefs' leading tackler with 43, his closest teammate 14 tackles away.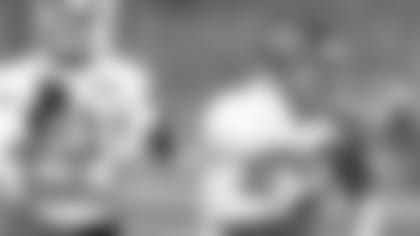 He credits part of that success to the injured Johnson, who frequently is around the University of Kansas Hospital Training Complex rehabilitating his injured Achilles. Mauga says Johnson is always willing to share advice, and he even tries to replicate Johnson's strategies on the football field.
"Having a guy like DJ, I go back and I watch games," he explained. "I watch films on how he plays the run and how he racks the passes and I get a lot of my movement from him, trying to play fast and make plays."
As he watches Johnson and garners experience as the defense's play caller, he said that the game is beginning to slow down right before his eyes.
"I have kind of been feeling more and more comfortable as the week goes on," he said. "Trying to work on my reads, trying to be quicker in my footwork, it's helped out a lot."
Mauga continued to apply those strategies as he joined the Chiefs in their first of three practices Wednesday in preparation for the New York Jets.
At one time unsure if he'd ever play professionally again, Mauga is eager to get back on the field against his former team.
"It will be great to see all the guys out there, mostly the guys I played with in the linebacker room," he said of what he is looking forward to the most. "It will be cool to see them again and there's no hard feelings.
"I guess they just figured I was done and it will be great to get back on the field and show them I can still play."
WR Donnie Avery (groin), CB Jamell Fleming (hamstring) and LB Josh Martin (hamstring) did not practice.
S Eric Berry (ankle), LB Joe Mays (wrist) CB Chris Owens (knee) participated in limited practice.
QB Alex Smith (shoulder), who had been mentioned by coach Reid on Monday, participated in full practice.
On Wednesday the Chiefs headed back to practice to prepare for the game on Sunday against the NY Jets