"We think we've helped this team," Kansas City Chiefs general manager John Dorsey said after the 2013 NFL Draft. "We think that the players we have selected and the ones we finished signing in free agency, I think you guys will appreciate their talents and them as people. I do have to thank the personal staff and coaching staff for all the hard, tireless work they have done to make this really come about. Like I have always said, this is a collective effort, as the process has gone on, I think we made us better, that's all that counts. Now it's off to minicamp and then training camp, now the fun starts."
The fun for the rookies kicks off today, when the team's three-day minicamp begins.
While the on-field practice begins today, the players' arrival came on Thursday, when I stopped by the locker room and saw a lot of the rookies and the tryout players making their way into the University of Kansas Hospital Training Complex.
The team's shuttle vans pulled up to the facility, carrying drafted rookies like RB Knile Davis, as well as undrafted-rookie free agents and 36 tryout players.
Chiefs head coach Andy Reid's entire staff, including Mitch Reynolds (football operations coordinator), BJ Stabler (player development assistant) and the rest of the crew led the rookies to each of the individual stations, where they completed physicals, including height, weight and body-fat composition, were later fitted for equipment, before they organized their lockers.
The rookies' long day of travel ended with a meeting, dinner and later, lights out at the hotel.
This morning as I grabbed breakfast in the team cafeteria, the environment reminded me of sports camps during both high school and college, where guys from all over the country would be meeting, some for the first time, others having competed against each other at some point in their careers, each with playbook in hand, hoping to soon call KC home.
The players walked through the cafeteria line, where they had everything to pick from, including bacon, sausage, turkey sausage, pancakes, waffles, fruit, made-to-order omelets, oatmeal, grits and plenty of fluids. Moms need not worry; your sons are well fed and hydrated at One Arrowhead Drive.
As the players enjoyed their food, while studying their playbooks and chatting with other fellow rookies, the conversations were fairly similar per table, including, "What's your name? Where are you from? Where'd you play?" were among the most-popular questions.
What's ahead for the rookies are three days of minicamp practices, offering a platform where the guys will attempt to make a name for themselves. Before you know it, Monday will be here and the veteran players return for phase three of the team's offseason program.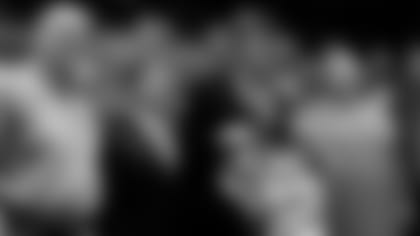 10 intriguing stories I'm looking forward to seeing this weekend:
It is Eric Fisher's first practice. The Chiefs #1-overall pick has already proven his leadership skills, walking around the locker room, meeting the new guys and hearing their stories.
I want to gauge Travis Kelce's energy and emotion with his new teammates, which coach Reid talked about after he selected him in the third round of the 2013 draft.
Everybody is wondering how RB Knile Davis will look, perform and feel during the three-day camp, hoping his NFL Scouting Combine performance (4.37-sec 40-yard dash) and his 2010 season, including his 1,322 rushing yards, are just signs of great things to come in KC.
I want to see what immediate impact LB Nico Johnson brings to the field and the locker room, coming to town with three BCS title wins.
Fifth-round pick, Sanders Commings brings his versatility to the team. I can't wait to see how Commings performs under the coaching of Hall of Famer Emmitt Thomas and defensive assistant/secondary coach Al Harris.
Sixth-round draft picks Eric Kush and Braden Wilson reported to camp yesterday. "What separates him," Chiefs GM John Dorsey said about Kush, "he's a really good athlete, his first two or three steps are exceptionally quick and to play the center position I think quickness is very, very important." Meanwhile, Braden Wilson comes to camp after coach Reid described him as the best blocking fullback in the draft. The former KSU Wildcat FB didn't have far to travel and is looking to stand out among the rookies this weekend.
Seventh-round pick, LB Mike Catapano arrived to KC after an early-morning flight on Thursday. The Ivy League's sack leader in 2012 is ready to transition his skills in Chiefs defensive coordinator Bob Sutton's system. After meeting and talking to Catapano yesterday, he's definitely built to play football.
I want to see how QBs Tyler Bray and Dayne Crist handle coach Reid's offense, while showcasing leadership.
The development of TE Demetrius Harris, who didn't play a snap of football at UW-Milwaukee but showcased enough talent for Chiefs general manager John Dorsey to give him a shot. Harris originally signed on to play football at Arkansas State after high school but then decided to pursue his basketball career. The Jacksonville, Arkansas native was an all-state football player at Jacksonville High School.

The ability that DL Brad Madison shows, coming off of his 50 games for the University of Missouri, recording 76 tackles, 26.5 tackles for loss, 16.0 sacks, four forced fumbles and one fumble recovery. You know Chiefs defensive line coach Tommy Brasher will love a guy who causes havoc up front. Madison added one interception and four passes defensed with the Tigers. He was a multi-sport athlete at South Harrison High School in Bethany, Missouri.