The Kansas City Chiefs announced Monday afternoon the hiring of Brett Veach as their new general manager.
"After a comprehensive search process, I am pleased to announce that we have hired Brett Veach to serve as the next general manager of the Chiefs," Chairman and CEO Clark Hunt said in a release. "Brett has a sharp football mind, a tremendous work ethic and a keen eye for finding talent.
"Over the last four seasons, he's played a critical role in building our football team. I look forward to working with him to continue to build on the strong foundation we have in place."
Here are 10 things to know about Veach:
1. Veach was a standout running back at a powerhouse Pennsylvania high school program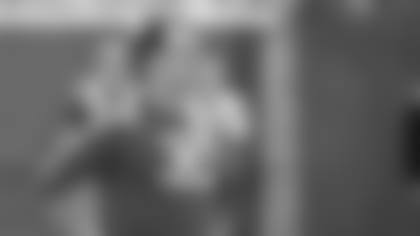 Veach attended Mount Carmel High School in Pennsylvania and was named the Associated Press Small School Player of the Year in 1996.
As a senior, Veach helped Mount Carmel finish with an undefeated record (15-0) and a state championship by rushing for 2,163 yards with 26 touchdowns.
He was twice named to the All-State team.
2. Veach played collegiately at Delaware with Chiefs' offensive coordinator Matt Nagy
As a four-year letter-winner, Veach caught 99 passes for 1,470 yards and 12 touchdowns in his career at Delaware (1998-2001). He also left as the school's all-time leader in kickoff return yards (1,558).
Veach earned a bachelor's degree in health and physical education, and a master's degree in education from Delaware. Along the way, he also earned three Atlantic 10 Conference All-Academic honors.
Nagy played quarterback at Delaware from 1997-2000.
3. Veach never played Nagy in high school but was familiar with him before college
"I knew of [Nagy] through his days at Manheim High School because our high schools were so close to each other," Veach explained. "So, when I got to Delaware, it was natural just to relate to him. Matt's one of those guys that because of where we're from - we were brought up in state and town where football is everything—from the day that I met him, I felt like I've known him my entire life.
"When you grow up in central Pennsylvania as we did, that's the pride and joy of that state. Not to say that there's not great football in Florida and Texas, but in central Pennsylvania and really the state of Pennsylvania, when you're young, the only thing you want to do is go with your parents to a high school football game.
"I remember being as young as four or five years old and going to games with my dad and that's all I've ever wanted to do. I think that Matt was the exact same way. In fact, I know that it's all he ever wanted to do. Listen, it doesn't mean that you can play in the NFL, but you know that in some way that football is engrained in you from an early age. Whether it's as player, coach or personnel guy, it's basically who you are. It's in your blood where it's going to be a part of your life."
4. Veach first made a name for himself as an area scout with the Eagles
Veach first entered the NFL as a training camp intern with the Philadelphia Eagles in 2004. He was hired to a full-time position as coach Andy Reid's assistant three years later.
In 2010, Veach was promoted from coach Andy Reid's assistant—a position he held from 2007-09—to a pro and college scout.
Just a year later, Veach got the opportunity to serve as the Eagles' Southeast Regional Scout. He held that position for two years (2011-12) before joining Reid in Kansas City.
During his time as an area scout, Veach was responsible for scouting the likes of defensive lineman Fletcher Cox, whom the Eagles selected with the No. 12 overall pick in 2012 out of Mississippi State.
Cox has earned two All-Pro honors (2014-15) so far in his career.
5. Veach once spoke about the opportunity to come to Kansas City
The opportunity to join coach Andy Reid in Kansas City wasn't just about following a familiar face; the structure of the personnel department was something that had also piqued his interest.
"I think one thing that we do here which is really cool is we kind of cross-train," Veach said back in 2015. "A lot of our pro guys help out on the college side, and then vice-versa, where a lot of our college guys will be asked for our input on the pro side. So, there's constant communication and back-and-forth in regards to strengths and weaknesses of where we can improve the team.
"I have a dual role where I do some college and some pro, so it's kind of a unique opportunity. I help out during the free agency period and the cut-down days with the pro side and then hit the road during the fall for college."
6. Veach had previously served as Co-Director of Player Personnel
This will be Veach's fifth year with the Chiefs and 11th year in the National Football League. He was promoted to Co-Director of Player Personnel before the 2015 season, and before that served as the Chiefs' Pro and College Personnel Analyst (2013-14).
Before joining the Chiefs in 2013, Veach spent six years with the Philadelphia Eagles in a variety of roles.
7. Veach is married with three kids
Veach and his wife, Alison, have a daughter, Ella, and twin sons, Elijah and Wylan.
8. Back in 2015, Veach shared his philosophy on the personnel business
"I think whatever you do in life, everything is a people business," Veach said. "It's all about establishing your relationships. I think the ability to go out on the road, meet new people, talk football, learn a little bit about the different areas and cultures and traditions, that's a really cool thing.
"And then having the opportunity to see a young man, and their abilities at a certain stage, and then project in your mind what they could be for your team, I think that's what draws you in the most."
9. Veach will report directly to Hunt on all player personnel matters.
Along with President Mark Donovan and head coach Andy Reid, Veach will report directly to Chairman and CEO Clark Hunt.
"My family and I would like to extend our gratitude to Clark and the Hunt family for this incredible opportunity," Veach said in the press release. "I am humbled and honored to serve as the General Manager of the Kansas City Chiefs. Over the last four seasons, I've had the privilege to work alongside Andy Reid, John Dorsey and a great group of coaches and personnel staff.
"Together, we built a strong foundation of players that have helped us sustain success on the field. I'm looking forward to continuing our progress as we head into 2017."
10. Veach's introductory press conference will be right before training camp
Along with Chairman and CEO Clark Hunt, Veach will be introduced to the media Monday, July 24 at 10:30 a.m. That's the same day rookies, quarterbacks, and players coming off injuries will report to St. Joseph, Missouri, for training camp.