The Seattle Seahawks, who already lead the NFL at a staggering 170.9 yards rushing per game, ran for 350 as a team against the New York Giants last Sunday.
"That's pretty impressive," head coach Andy Reid said when asked about it Wednesday. "I mean they had some guys that were putting up yards. You've got to be prepared for that."
But *how *will the Chiefs be prepared?
Reid wasn't willing to give up that answer so quickly.
"I can't tell you or else they will know and they will get 300 yards," he jokingly said to a laughing media room. "So I can't do that."
When it comes to stopping the Seahawks' run game, there are two primary suspects to be worried about: running back Marshawn Lynch and quarterback Russell Wilson.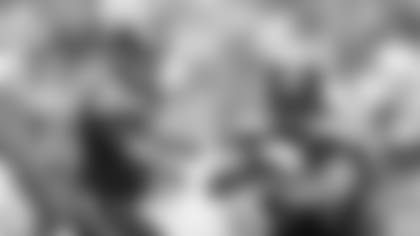 In the Seahawks' 38-17 trouncing of the Giants, Lynch exploded for 140 yards rushing and four touchdowns by himself. Add in his yards receiving and Lynch compiled 163 total yards in the game. In his nine games this year, he has eclipsed 100 total yards five times, including the last two games in a row.
"You have to tackle him," defensive lineman Jaye Howard said. "You have to have eleven guys around the ball. That's going to be a focal point of this week—just tackling."
"Tackling" sounds like a simple solution but will be vital with a player like Lynch. According to the football analytical site Pro Football Focus, Lynch is the league's highest regarded running back in "elusive rating," a stat that encompasses missed tackles forced and yards after contact.
In other words, tackling Lynch is not easy. But he's just half of the Seahawks' two-headed rushing monster.
More than halfway through the season, Russell Wilson is gaining 7.6 yards per attempt, a historical pace. To put it in perspective, if Wilson stays at that rate, he'll own the fourth best single-season mark of all time in that category at the end the year.
Chiefs linebacker Josh Mauga seems to have pinpointed the reasoning behind Wilson's success.
"Getting guys out of position," he said. "There are a lot of times where guys are chasing the ball one way and Wilson is bouncing out the opposite way."
By that logic, staying in position will be critical.
"We can't overplay plays," Mauga added. "Guys have to stay home and do their job and trust that the next guy is playing their job."
While Reid wasn't willing to share his secrets on stopping the Seahawks' daunting rushing attack with the media, Mauga was likely among those that did hear it as the Chiefs got back to work Wednesday.
In four short days, the Seahawks will be at Arrowhead Stadium, and the Chiefs will need to offset Lynch and Wilson in order to clinch their fourth win in a row.
TE Anthony Fasano (knee) and CB Jamell Fleming (hamstring) did not practice.
WR Donnie Avery (groin), LB Tamba Hali (knee), WR A.J. Jenkins (shoulder) and CB Chris Owens (knee) were limited.
Kansas City Chiefs practice in the indoor practice facility on November 12, 2014 in preparation for their upcoming sunday game vs the Seahawks