Some within the game call it the toughest day in football, when NFL teams must cut their roster down to 53 players at the end of training camp.
In 2013, that day was August 31, and on it, the Seattle Seahawks cut two names you may recognize: Jaye Howard and Ron Parker.
Seattle had drafted Howard out of Florida in the fourth round of the 2012 NFL Draft and Parker, an undrafted free agent who signed with Seattle in 2011, was being released from the team for the fifth time in his career.
They didn't know it at the time but they would find out rather quickly that though they were no longer Seahawks, they were still teammates.
A day later they were members of the Kansas City Chiefs.
Both saw action in limited roles for the Chiefs in 2013, with Parker taking 95 snaps to Howard's 49.
But this season, each player's workload has expanded vastly and they have become integral parts of defensive coordinator Bob Sutton's scheme.
Howard has garnered 225 snaps with the defense already this season and Parker, a player who could be considered as the team's most versatile, has played in 546, the fourth most of anyone on the team.
Last game, Bills quarterback Kyle Orton attempted to hit his number one receiver in Sammy Watkins three times on his last viable drive to win the game. Parker broke up all three passes.
"I just knew we needed a stop and we needed to get off the field to get a win," Parker said. "I was willing to do anything possible to take our team to victory."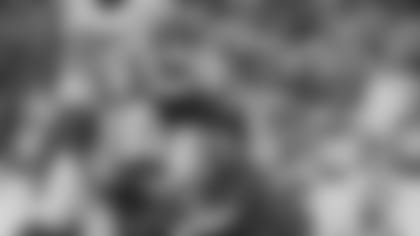 In Howard's case, his improvement has allowed him more playing time and that has kept the defensive line stamina up, something that will be important when the Chiefs face the Seahawks and the supremely mobile Russell Wilson on Sunday.
"We need to keep everyone fresh," Howard said. "So when you're in there you're going as hard as you can."
Fully grasping their roles and in the thick of the defensive game plan, both Parker and Howard admitted this week that this game in particular will be special, an opportunity they have been looking forward to for a long time.
"It's going to be a big game for me," Howard said. "I have a lot to prove but I'm glad I'm here. Back in my mind it's still there that they released me, so it's going to be a big game."
Parker couldn't agree more.
"It's going to be real fun going up and playing against them boys," Parker said Thursday. "It's something Jaye and I, I know he's looking forward to it, something I've looked forward to since I left.
"I want to go back and try to show those guys what a mistake they made and go out there and try to play ball and have fun on the defense with the Chiefs."
---
Both took that attitude to the practice field Thursday as the Chiefs participated in the second of three practices in preparation for the Seattle Seahawks on Sunday.
TE Anthony Fasano (knee), CB Jamell Fleming (hamstring), WR A.J. Jenkins (shoulder) and CB Chris Owens (knee) did not practice.
WR Donnie Avery (groin), CB Phillip Gaines (ankle/quad) and LB Tamba Hali (knee) were limited.
Kansas City Chiefs practice in the indoor practice facility on November 12, 2014 in preparation for their upcoming sunday game vs the Seahawks