Starting slot receiver Junior Hemingway, a player who has been targeted by Alex Smith 22 times this season, will be listed as out Sunday night against the Denver Broncos according to Chiefs head coach Andy Reid.
Hemingway suffered a concussion in last Thursday's game against the Oakland Raiders.
That unfortunate news was met with some positive for the Chiefs Friday in the form of Donnie Avery, who Reid said could potentially be active come Sunday.
"There's a chance," Reid said. "He's practiced this week and he looked pretty good this week. We'll see how things go."
Avery has been out since Monday Night Football Week 4 against the New England Patriots. After that game, he underwent successful sports hernia surgery and is at a point now where he is very close to being back for the Chiefs.
A player who should definitely see time is Jason Avant, who since being signed a week ago has been frantically trying to master the Kansas City playbook.
Having played with Reid in Philadelphia has helped Avant in that process, but earlier this week, he admitted he still had more to learn.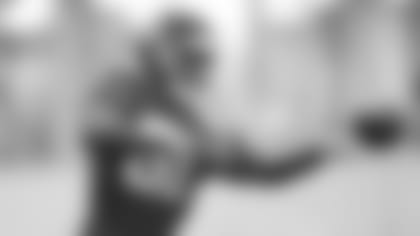 "There are some similarities there, but there's a lot of new things," Avant said of the playbook Tuesday. "He has different personnel here so he uses different personnel in different ways so you have to change play calling around. I'm learning those things.
"I would say about 65 percent to 70 percent I know or I'm refreshing, the other part I have to learn."
Reid updated the media on his progress Friday.
"He's been working like crazy trying to learn it and most of it," he said. "I think he's got a pretty good grasp on it so he would be in a position where he's ready to play. We'll just have to see how things go from there as far as play time."
With no Hemingway, the Chiefs' active receivers will be Dwayne Bowe, Frankie Hammond Jr., Jason Avant, Albert Wilson and with any luck, Donnie Avery.
They will look to give the Chiefs their first touchdown receiving of the season as the team hopes to get back on track against the Denver Broncos.
WR Junior Hemingway (concussion) did not practice and will be listed as out against the Denver Broncos.
CB Chris Owens (knee/abdomen) and DT Kevin Vickerson (calf) are listed as questionable.
While Andy Reid did say there is no timetable for news on safety Eric Berry, he did provide an update for how Berry spent his Thanksgiving: "Eric's doing good. He went over to his grandmother's yesterday and before they give him any other treatment, he made sure he took care of business yesterday."
Kansas City Chiefs practice in the indoor facility on Wednesday before their Sunday Night Game vs the Broncos