"In this offense, which isn't the case for most offenses in today's football, the fullback ends up being an important part of that," he explained in one of his weekly press conferences. "With that, they've got to be good blockers and they've also got to be able to catch the football. [Sherman] can do all of that and on top of that, be a good special teams player."
"I also think he's one of the leaders on the football team. So, he kind of covers a bunch of bases there, but most of all he's a good football player."
Sherman originally became a Chief when he was traded from the Arizona Cardinals in the 2013 offseason.
Now Sherman, who had been on the last year of his contract, won't be going anywhere for the near future.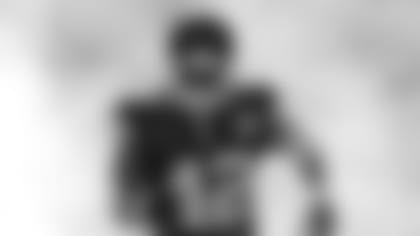 "It's huge," he said excitedly on Wednesday. "I definitely wanted to stay here, definitely wanted to be a part of this team. We're going to do some good things. I want to stay in Kansas City, so it was definitely good to get out of the way."
According to the ratings of ProFootballFocus.com, Sherman is by far the best fullback in the NFL, beating out nineteen others who share the position.
He plays a major role for the Chiefs in blocking for running backs Jamaal Charles and Knile Davis, and as a team this season, the Chiefs have rushed for 1,095 yards, the sixth best mark in the league.
Those numbers and the mindset Sherman brings every day translated to delighted teammates upon hearing the good news.
"I really don't think there's a guy in this locker room that's not happy for him today," Chiefs quarterback Alex Smith. "So selfless, team guy, team first, [he] does it all – special teams, fullback, we move him around, we do a lot with him. It doesn't matter."
"You could ask him to go out there and play any position and he would do it. Incredibly selfless guy but a guy everybody loves to have around, loves to have in the locker room, that kind of personality. So I'm happy for him."
With the big news for Sherman, Chiefs reporters huddled around him today in the locker room trying to get as much as they could on how he felt about his new contract.
But staying true to his aforementioned personality on likely one of the most important days of his life, Sherman felt other matters trumped his own story.
"Right now, I'm not really too concerned with it," he said. "I'm more focused on the Buffalo Bills."
Now a Chief for a long time to come, Sherman took that attitude to the practice field Wednesday as the Chiefs gear up for their AFC showdown this weekend.
CB Jamell Fleming (hamstring), LB Jerry Franklin (hamstring) and Josh Martin (hamstring/knee) did not practice.
LB Tamba Hali (knee), WR Donnie Avery (groin) and Chris Owens (knee) participated in limited practice; Avery's participation in practice was his first since his sports hernia surgery on October 3.
A look into practice on Wednesday, getting prepared for the Bills.