Justin Houston is playing the best football of his career.
Through eight games, the fourth-year linebacker has sacked the opposing quarterback 12 times, already eclipsing his previous career-high and in the process building a reputation as a complete destroyer of opposing-team game plans.
"He's a gifted guy physically," Kansas City Chiefs defensive coordinator Bob Sutton said of Houston on Thursday. "I think he's taken the pass rush to, really, that next level."
The next level Sutton refers to has placed Houston in a class of his own. As he sits on top of the NFL leaderboard alone, the next name in line has three less sacks.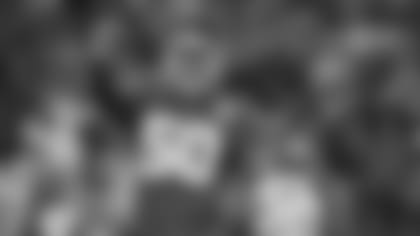 The NFL record for sacks is 22.5 (set by Michael Strahan in 2001) and quick math can tell you that Houston is on pace for 24.
Chiefs head coach Andy Reid believes his success is due to how hard he works.
"I see it in practice every day," Reid said this week. "He puts a lot of pressure on himself."
That pressure transcends normal practice hours. When practice has concluded and the majority of team has returned to the locker room, Houston can be found still on the field, broadening the distance between him and the rest of the National Football League.
That custom of extra work is something that Houston learned as a young player from Tamba Hali, who has been a Chief for the nine years of his NFL career.
"He and Tamba are out there doing all their pass rush stuff that they do and games that they do," Reid said. "I think Justin could probably tell you he learned a lot of that from Tamba and the way Tamba goes about his game.
"Tamba's a relentless worker too."
Hali, the teacher, just sees his inkling from years back finally coming to fruition.
"I always knew he was good," Hali said after the Chiefs' win against the Jets. "Eight games, 12 sacks. I can't put my finger on it.
"He's playing well and he understands what he wants to get done around here."
Between the lines, Houston is a beast. At 258 pounds, he manages to infiltrate some of the best offensive lines in the league with speed and a rare form of viciousness.
Since December 1, 2011, Texans linebacker JJ Watt is the only player in the league with more sacks, beating Houston by just two, 40.5 to 38.5.
Off the field, Houston could be showy, but he isn't. In fact, in the locker room between practice and after games, he seems unnoticeable, almost unapproachable. To him, he's doing his job, one that has been made easy in his mind by the outstanding play of his teammates.
"It's a group effort. I'm receiving all the credit, but I can't do it without everybody else," Houston said after last game. "Tamba, (Allen) Bailey and (Dontari) Poe do a great job rushing; we have great coverage down field."
No selfishness, no pride.
"It's a group effort," he repeated.
---
*Houston and the Chiefs returned to the practice field Thursday in preparation for the Buffalo Bills on Sunday. *
CB Jamell Fleming (hamstring), LB Jerry Franklin (hamstring) and Josh Martin (hamstring/knee) did not practice.
WR Donnie Avery (groin), LB Tamba Hali (knee), LB Frank Zombo (non-injury related) and Chris Owens (knee) participated in limited practice.
A look into practice on Wednesday, getting prepared for the Bills.