The Kansas City Chiefs have been busy.
Over the past week, they've made two trades, signed multiple free agents and even re-signed a handful of their own guys.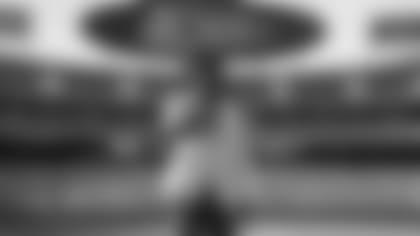 It's a lot to keep track of and with so much changing by the day, here's a quick snapshot of 11 observations that stand out from what we've seen from the Chiefs over the last week:
1.     The young guy gets it
After the trade that sent veteran quarterback Alex Smith to the Washington Redskins for cornerback Kendall Fuller and a third-round pick (No. 78 overall) became official last Wednesday, second-year player Patrick Mahomes  was introduced as the Chiefs' new starting quarterback.
And based on what Mahomes said about what he learned from Smith over the past year, it's obvious he gets it.
2.     Kendall Fuller brings some versatility
"We knew exactly what we wanted, and we wanted Kendall Fuller," Chiefs' general manager Brett Veach explained of his mindset going through the process that sent Smith to Washington for Fuller and a draft pick.
Fuller, who played in the slot more than anywhere else last season, doesn't just see himself as a "nickel" guy, but someone who can play all over the field at any given time.
Coach Reid didn't confirm where Fuller will play next season but did say his versatility will help give defensive coordinator Bob Sutton some options.
Last year, Fuller allowed just 56.3 percent of the passes thrown in his area to be caught, and a 56.7 quarterback rating when targeted—both numbers that ranked among the best in the league.
3.     Brett Veach wants a mindset on defense
"When we look at the defense and we are trying to get different pieces here in place – I don't think you get better until you develop and get a mindset of how you are going to play," Veach explained. "You have to get corners and you have to get pass rushers, we are aware of all that, but it starts with a mindset."
One player who fits that mindset is new Chiefs' linebacker Anthony Hitchens, who didn't miss a single tackle last year playing for the Dallas Cowboys.
"When you turn on the tape and watch Hitchens play, he plays with that toughness and that mindset," Veach noted. "When you take the field, that opposing offense knows they are going to be in for a dog fight for four quarters.
"That is one of the things that we talked about as a staff. Yeah, we can get good players, but we have to develop that mindset. This is what this guy brings."
4.     Sammy Watkins is really excited to work with Mahomes
Watkins, who didn't drop a single pass last year and finished with a team-high eight touchdowns for the Los Angeles Rams, spoke about Mahomes.
"I put my faith in the coaching staff and [Mahomes] not just to be my quarterback, but to grow with him as a friend and as a man and lead this team," Watkins explained this week. "He's going to be the leader of this team and I'm going to be behind him 100 percent.
"I just can't wait to catch one ball from him, to just really make it feel so real."
5.     Brett Veach tried to trade for Hitchens and Watkins last year
"When I took over in July, I got with (Director of Player Personnel) Mike Borgonzi and the first call I made was to Dallas about Anthony Hitchens," Veach explained. "We went into the last camp and there is only so much you can do once you get to July. There is not a lot of space and rosters are set. I knew that Derrick [Johnson] was coming off another injury and just knew that we would have some potential depth issues. We went through all the teams that had linebackers with one year left on their deal. Those are teams that if they haven't reached a deal with their player, they are in their last year so maybe they will move them…They said they weren't going to move [Hitchens].
"Then we went on and a month later when it was made aware that Sammy was going to be dealt from Buffalo, I talked to (Bills' general manager) Brandon Beane about doing a trade. Problem is, he wanted a (second-round pick), and being a first-year GM, then going into the draft without a (first-round pick) or a (second-round pick) I would have put myself in a bind. We offered a (third-round pick) and it didn't get it done."
Hitchens said his agent didn't tell him about the trade attempt until after this past season was over, but that it played a part in his decision once free agency opened.
6.     They kept many of their own
The Chiefs re-signed defensive lineman Jarvis Jenkins, offensive lineman Jordan Devey, fullback Anthony Sherman, receiver De'Anthony Thomas, linebacker Terrance Smith, and punter Dustin Colquitt.
7.     Chiefs signed a veteran backup who's ready to help Patrick Mahomes
The Chiefs signed 10-year NFL veteran quarterback last Friday.
Henne, who spent the past five years with the Jacksonville Jaguars, spoke about the idea of being a mentor for Mahomes.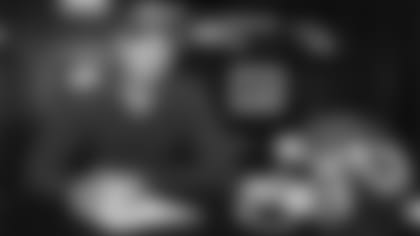 "I've been in that position to help a young guy out before…I think it's just kind of always been in me. I think it's the unselfishness. It's just a lot of fun for me, not only as myself as a player grow, but if I can give back because this league has given so much to me, why not give as much as I can?
"They're going to get a hard worker—here to help not only Patrick but bring some leadership qualities to this team any way I can. At the same time, I'll be ready to go if my number is called."
8.     Coach Reid is excited, like *really *excited
"We're very optimistic," Reid said about Mahomes and the 2018 season. "And when you're around him here like you will be, you'll get that same feel, that same energy. He's grown up in a locker room, he gets it. That part he gets. His teammates – I saw guys gravitate towards him during the year and how he takes control.
"He's nice right now up here to you, but there's this other side that he's not afraid to pull the trigger on and give you the business when you're not doing your thing. It's an exciting time."
9.     Chiefs have opportunity to move around in the draft now
Here are the Chiefs current draft picks:
*Round 3 – No. 78 (from Washington)*
*Round 4 – No. 124 (from Los Angeles)*
"I'm excited for the draft," Veach explained. "Who knows? Maybe we'll get back in the first round before it's all said and done."
The Chiefs don't have a lot of draft capital to move around for this year's draft, but we've seen Veach act pretty aggressively to this point, so it's hard to rule out anything.
10.  The Chiefs are going to press, a lot
"They told me to be prepared to play press 90 percent of the time, and I don't have a problem with that," new Chiefs' cornerback David Amerson explained. "You have to have some dog in you, a short memory and that mindset that no matter what goes on, I'm going to win this battle.
"And at the end of the game. I'm going to make plays and not give up…every play is a new play and every down is a new down."
11.  Brett Veach is expecting a big year from Dee Ford
Ford missed most of last season with a back injury—a disappointing follow-up to what was seen as a breakout 2016 season in which he finished with 10 sacks.
"Dee's doing very well," Veach explained. "I spoke to Rick (Burkholder) last week and I think he's going to be 100 percent come April 1st so we should see him out there at OTAs. He looks great and I think he's going to have a big year. I really do."