Running back Jamaal Charles did not practice on Wednesday due to a knee and "a little bit of an ankle" issue according to Chiefs head coach Andy Reid.
Charles injured his leg in the first quarter of last Sunday's game against the Cardinals when he was bent over backwards by an Arizona defender, but he wound up returning the next Kansas City drive.
Altogether before the injury, Charles rushed four times for 76 yards and a touchdown. After returning, he got six more carries for 15 yards the rest of the way.
During the media portion of practice Wednesday, Charles could be seen walking without any limp, a positive sign for the Chiefs.  
"I think he'll be OK but he's going to go through treatment," Reid said of Charles' status. "We'll just see."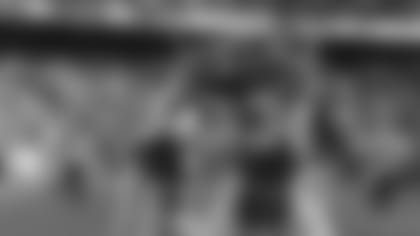 If Charles can't go against the Oakland Raiders, expect backup Knile Davis to start. Davis, in his second season, has rushed 59 times for 213 yards and three touchdowns in his two career regular season starts (Week 17 against San Diego in 2013 and Week 3 against Miami this season).
In the Chiefs' playoff game against the Indianapolis Colts last season, Charles was injured early and Davis filled in to rush 18 times for 67 yards and one of Kansas City's five touchdowns.
"I'm comfortable with Knile," Reid confidently explained. "We feel very good about Knile. He's a good football player so [there's] no reason not to."
In addition to Charles, defensive end Allen Bailey, tight end Anthony Fasano and linebacker Tamba Hali also missed practice. Hali and Fasasno are both dealing with knee issues and are day to day while the timetable for Bailey is unknown as he has yet to pass his concussion test.
Wide receiver Junior Hemingway, after passing his test for the concussion he suffered on November 20 against the Raiders, returned to practice on Wednesday.
With these four players (Bailey, Charles, Fasano and Hali) being key for the Chiefs in their pivotal matchup against the Raiders on Sunday, their status will be something to pay attention to as the week carries on.
Reid's comment on S Eric Berry's diagnosis of Hodgkin Lymphoma: "We know he's going to attack this. He's got a great doctor. He's got a good relationship with the doctor, which I think is big. He has a lot of trust in them and they spent some hours together here over the last week or two here getting to know each other and then he'll jump into his treatment. One thing that Eric is he's physically fit. Listen, if you've got to have one of these things, this one there is a high-cure rate. We know Eric is going to handle this thing the best that he can and Dr. Flowers will do the same thing. They'll get after it." 
WR Donnie Avery (groin), CB Phillip Gaines (concussion) and LB Joe Mays (knee) were all limited participants.
View the top photos of running back Knile Davis from 2014.