After learning that he made the 53-man roster out of training camp on September 1, wide receiver Albert Wilson was asked how it felt, especially coming from Georgia State, a school that had just started a Division I football program.
"I just believed in myself and the opportunity I was given to show my talent," Wilson said on a day now more than three months ago. "It goes back to staying in your playbook, learning and being coachable at the end of the day."
That attitude never left Wilson, who after 14 weeks of believing in himself and all the hard work that goes with it earned his first start of his career last week against the Arizona Cardinals.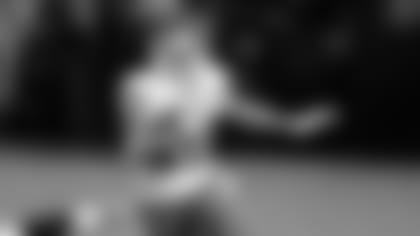 Before Sunday, Wilson had played in 27 snaps all season, but against Arizona, he played in 51 in place of veteran Donnie Avery.
"I just thought Donnie needed to step back," head coach Andy Reid reasoned this week. "He wasn't quite up to full speed the week before."
Reid continued, complimenting Wilson and his own decision.
"And then Albert has been playing well; he did a nice job," he said. "He'd like to probably have that last one back but other than that I thought he had a pretty good game."
Wilson caught four passes for 53 yards in total and was targeted by quarterback Alex Smith eight times, including twice on the Chiefs' final possession down three points needing to score. The "last one back" Reid referred to occurred on second-and-18 near the beginning of the fourth quarter on a deep out that would have brought the Chiefs within two yards of the first down marker.
The ball sailed through Wilson's hands, but it was his only real blemish of the game.  
Throw that out, and the vast amount of time Wilson was on the field along with the situations Smith was willing to pass to him in showed both the trust and confidence the team has in the rookie to do the job.
"Albert is a talented young player with speed, some bursts of quickness," offensive coordinator Doug Pederson said. "You see him in those short to intermediate routes and a couple opportunities to make a play down the field with him."
Wilson, who has diligently worked all season to get to the position he is in, acknowledged Wednesday that this opportunity is something he has looked forward to for a long time.
"It's just a feeling that everybody's been waiting for," Wilson said. "I've been practicing hard and we've been doing the same thing we've been doing all week so it was just a comfortable feeling. I'm very anxious to get that playing time."
With the quality of game Wilson played, it wouldn't be surprising if the Chiefs turn to him once again on Sunday.
"The more reps he gets in game situations, the better he's going to become," Pederson said.
---
*The Chiefs returned to the University of Kansas Hospital Training Complex for their second of three days of preparation for the Oakland Raiders on Thursday. *
DE Allen Bailey (concussion), CB Phillip Gaines (concussion) and LB Tamba Hali (knee) did not practice.
RB Jamaal Charles (knee/ankle) and TE Anthony Fasano (knee), who missed yesterday's practice, were limited; LB Joe Mays (knee) was also limited.
A look into practice on Wednesday in the University of Kansas Hospital training facility. Raider Week!