The 2013 NFL Draft Spotlight series continues, as we preview one pro prospect per day, right up until the start of the draft, April 25-27. However, none of the reports in this series are indicative of who the Kansas City Chiefs plan to draft, with any of their currently-owned eight picks.
There appears to be a three-way race for which left tackle will be the first off the draft boards in April.
Central Michigan's Eric Fisher is neck and neck with the other two tackles, Lane Johnson and Luke Joeckel (according to several draft analysts).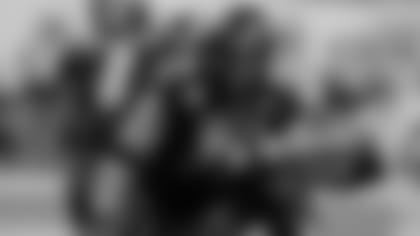 Not widely recruited out of high school, Fisher used the lack of scholarship offers as motivation to help the Chippewas offense average nearly 400 yards per game, including 6.2 yards per play, (second best in the MAC).
"You are never good enough, you can always be better," Fisher told the *Morning Sun*. "It's simply a matter of working on your technique and fundamentals every day."
That's exactly what Fisher did, earning him a spot at the Senior Bowl, which he followed up with a fantastic 2013 NFL Scouting Combine.
Combine stats:
40-yard dash (5.05 sec)
Broad Jump (116.0 in.)
225-lb Bench Press (27 reps)
20-yard Shuttle (4.44 sec)
What else should you know about Eric?
He helped anchor the offensive line that only allowed 14 sacks in 2012 (4th best in MAC).
"This guy is something else," NFL.com senior analyst Gil Brandt said of Fisher.
"Some guys have heavy feet -- the ground pounders of the game. But Fisher, who completed the short shuttle in 4.44 seconds at the combine, has really light, quick feet -- probably the best feet of any offensive lineman in this class.
Fisher is like a carbon copy of San Francisco 49ers tackle Joe Staley (who was a first-round draft pick out of Central Michigan), only a little bit taller (Fisher is 6-7 1/4; Staley is 6-5). He has long arms (34.5 inches), which made his ability to throw the bar up 27 times all the more impressive. Fisher has put his time in, and he's worked hard. The former high school basketball player is an athlete."
Fisher did miss the final two games of the 2011 season due to a knee injury, but shined in 2012.
ESPN NFL DraftTracker gave Fisher high grades, but noted:
"Can be a step late cutting off linebackers when working a double team with guard or tight end."
"Can continue to get stronger in the upper body but possesses adequate power with initial punch."
"Only real issue as an inline blocker is that he will get too far over his feet when initially firing off the ball at times, which can make him susceptible to effective push-pull or swim moves."
Name: Eric Fisher
Position: LT
Height: 6'7
Weight:306
College:Central Michigan
Hometown:Rochester, MI
Age: 23