Another day, another trip, this time to the state of Michigan, where the Kansas City Chiefs continue their mission to find the best players available in the upcoming NFL Draft. As the team travels to each new spot and scouts pro prospects, we'll update you with more photos and miles logged during the 2013 scouting saga.
See pics from the team's previous scouting trips in the Photo Gallery.
Today, the team took a round trip to Central Michigan University, home of the Chippewas.
Kansas City Chiefs head coach Andy Reid visiting with some Central Michigan Chippewas staff members.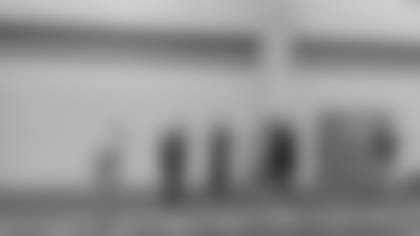 Chiefs offensive line coach Andy Heck and Chiefs asssistant offensive line coach Eugene Chung
continuing their scouting and coaching routine, this time at Central Michigan.