Fresh off the best single-season turnaround in franchise history, the 2014 Kansas City Chiefs will soon report to the campus of Missouri Western State University in St. Joseph, Missouri for training camp.
Led by second-year coach Andy Reid, the Chiefs will look to build upon the foundation laid a season ago when the team finished with an 11-5 record and a berth into the playoffs.
The bar has been set and the expectations are high, so let's take a look at a few of the big storylines coming to St. Joseph over the next few weeks.
Who steps up along the offensive line?
The Chiefs will see some new faces stepping into larger roles along the offensive line next season.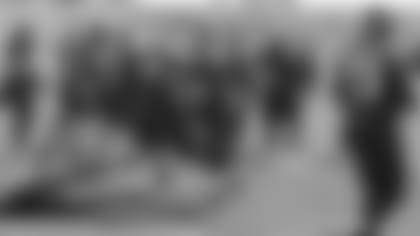 Branden Albert (800), Jon Asamoah (673) and Geoff Schwartz (549) combined for 2,022 snaps last season, and each of those players will be wearing a different uniform this season.
Returning players Rokevious Watkins (88), Rishaw Johnson (75) and Eric Kush (73), along with the veteran additions this offseason of Jeff Linkenbach (408) and J'Marcus Webb (108), combined for just 752 snaps a season ago.
Add in rookie sixth-round pick from Tennessee, Zach Fulton, and you have a key area to watch during training camp.
A couple of these players will need to join tackles Donald Stephenson and Eric Fisher, along with center Rodney Hudson and left guard Jeff Allen, as foundations in the trenches for the Chiefs in 2014.
Who steps up to take some pressure off Jamaal Charles?
After leading the team in both rushing and receiving yards last season, Charles could use a partner in the playmaking department for the Chiefs offense next season.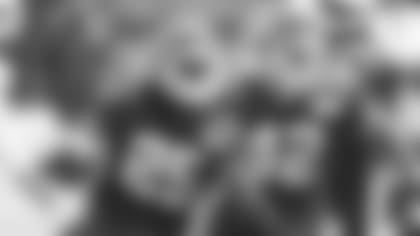 Charles finished the 2013 season with 1,287 rushing yards on 259 carries with 12 touchdowns, also adding a team-leading 70 receptions for 693 yards and seven touchdowns in the receiving game.
Quarterback Alex Smith is coming off the best season of his nine-year career, establishing career bests in completions (338), attempts (554), yards (3,691) and touchdowns (27).
Outside of Charles, the passing game features seven-year veteran receiver Dwayne Bowe, who led the team in targets last season with 105, catching 57 passes for 673 yards and five touchdowns. In his first six NFL seasons, Bowe averaged 124 targets, 69 receptions for 954 yards and just over six touchdowns per season.
A revitalized Bowe recently told USA Today that he's ready to go for the season.
"I made the initiative to be in better shape," Bowe told USA TODAY Sports on Monday. "I'm getting older, and talking to the old vets, the only way you last longer is to be in better conditioning. I took that to the heart and am training extremely hard this year."
One of the most accomplished receivers in Chiefs history, Bowe sits just 906 yards away from being the Chiefs all-time leading wide receiver in franchise history.
One returning player who might be able to play that role alongside Charles and Bowe would be receiver Donnie Avery, who finished last season with 596 yards receiving on 46 receptions with two touchdowns, adding a team-best ten receptions of at least 20 yards or more as well.
At tight end, Sean McGrath, Anthony Fasano and a healthy Travis Kelce might also help alleviate some of the pressure on Charles to produce the lion's share of the offensive production. Kelce missed the entire 2013 season with an injury while McGrath and Fasano combined for 49 receptions for 502 yards and five touchdowns.
Demetrius Harris joins the mix at tight end as well and is another player to keep an eye on during camp. His impressive showing at OTAs caught the attention of coach Reid.
"I'll tell you he's a football player right now," Reid said of Harris. "I think this camp was great for him. I thought he played exceptionally well. He's so big and he's worked so stinking hard in the weight room, he's been living in there with Barry (Rubin) this offseason and you can tell. You can see he's gotten stronger."
Coming into the second year of the Reid and Smith-led Chiefs offensive era, training camp would be a perfect time for another favorite weapon of Smith to emerge.
How much can we expect to see of Dee Ford as a rookie?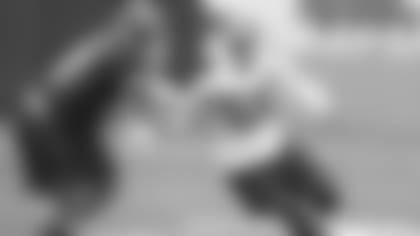 The Chiefs used their first-round pick and the No. 23 overall selection in the draft last May on the speed rusher from Auburn, outside linebacker Dee Ford.
Having two of the best outside linebackers in the NFL on their roster already in Tamba Hali and Justin Houston, training camp could provide a glimpse into how defensive coordinator Bob Sutton plans on utilizing his new talented playmaker.
If the Chiefs can find ways to get all three of those players on the field together, joined by Pro Bowlers Eric Berry, Dontari Poe and Derrick Johnson, there's reason to believe the Chiefs defense can once again make noise in the AFC West this season.
Top training camp battles
While Smith has firmly solidified himself as the starting quarterback heading into next season, the two spots behind him could be a little more interesting.
Veteran and returning backup quarterback Chase Daniel played extremely well in limited action last season.
With two young, developing quarterbacks in second-year player Tyler Bray, along with the Chiefs fifth-round pick from this past draft in former Georgia quarterback Aaron Murray, all eyes will be on the two young guys to see how and when they might be able to contribute.
Another battle worth watching surrounds two players brought in this offseason with similar skillsets.
The first player is former CFL (Canadian Football League) standout Weston Dressler, who spent six years with the Saskatchewan Rough Riders before signing with the Chiefs this offseason.
Dressler stands at just 5'7" and 179 pounds, but displays the quickness and ability to play the slot receiver position, along with helping in the return game.
The Chiefs also selected former Oregon standout playmaker De'Anthony Thomas in the fourth round of this past draft.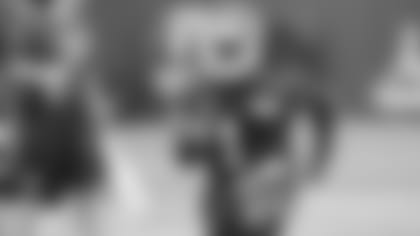 Thomas also stands at a mere 5'9" and 174 pounds, but has been a recognizable name in football circles since his freshman year at Oregon back in 2011, when he was named the Offensive Freshman of the Year and a First-Team All-Pac 12 performer.
Thomas scored an astounding 46 total touchdowns in his three seasons at Oregon, excelling as a rusher and receiver as well as a dynamic return man.
Shortly after the draft, Chiefs general manager John Dorsey explained why Thomas could be such a good fit within Reid's offense.
"In the kind of offense that Andy runs, he's going to create situational matchups for this type of player," Reid said. "And that's kind of how you take advantage of his unique athletic traits and then you let the coach scheme him in to certain packages that take advantage of defenses, and that's what's going to happen."
Both Dressler and Thomas possess similar skill sets and stature, thus making their competition noteworthy.
These storylines are just a few of the things to watch for as the Chiefs get underway at training camp and begin their preparations for the 2014 season. We'll keep you updated every step of the way here at KCChiefs.com.