The second game on Sunday features the Indianapolis Colts and the New England Patriots in a matchup for the AFC Championship.
INDIANAPOLIS COLTS at NEW ENGLAND PATRIOTS (Sunday, CBS, 5:40 PM CST)
After defeating one future Hall of Fame quarterback last week in the Denver Broncos' Peyton Manning, the Colts' Andrew Luck will once again have the opportunity on Sunday as they travel to take on Tom Brady and the Patriots in the AFC Championship Game.
Luck, who last week became the first player in NFL history to pass for more than 250 yards in each of his first five career playoff games, will look to overcome some past struggles against the Patriots.
In three career games against the Patriots, all losses, Luck has thrown eight interceptions to just six touchdowns.
Although Luck did lead the NFL with 40 touchdown passes in the regular season, his counterpart on Sunday, Tom Brady, will look to continue adding to his long list of postseason accomplishments.
Last week, in a 35-31 win over the Baltimore Ravens, Brady (46) surpassed Brett Favre (44) and Joe Montana (45) for the most career touchdown passes in NFL playoff history. He and coach Bill Belichick also have 19 postseason wins together, which is the most all-time for a quarterback-head coach duo.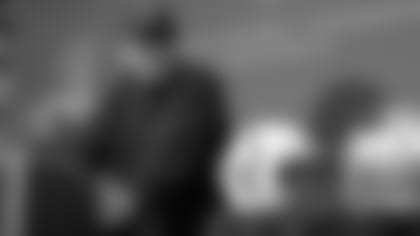 Brady is 13-3 (.813) as starter at home in the postseason and he's just 10 yards shy of passing Peyton Manning for most yards passing in postseason history.
These two teams met in the divisional round of the playoffs last season and even with these high-powered passing attacks, the story of that game was the Patriots rushing attack, which has become a theme recently in games between these two.
Last year, led by LeGarrette Blount's 24 carries for 166 yards and four touchdowns, the Patriots beat the Colts 43-22. The Patriots finished that game with 234 yards rushing and six touchdowns.
Back in Week 11 of this season, even with a different player running the ball, the Patriots found similar success on the ground as rookie Jonas Gray carried the ball 37 times for 201 yards and four touchdowns for the Patriots, as they beat the Colts 42-20.
Including the playoffs, the Patriots have won each of the past five meetings against the Colts and are averaging 41.2 points per game in those contests.
LAST WEEK'S RESULTS (JANUARY 10-11)
Saturday, January 10
Sunday, January 11
NEW ENGLAND 35, Baltimore 31
GREEN BAY 26, Dallas 21
SEATTLE 31, Carolina 17
Indianapolis 24, DENVER 13
Home Team in Caps
2014 CHAMPIONSHIP WEEKEND SCHEDULE (JANUARY 18
Sunday, January 18
Green Bay at Seattle 2:05 PM (FOX)
Indianapolis at New England 5:40 PM (CBS)
All times local