---
GAMETIME: 6:00 p.m. CST on Sunday, January 25LOCATION: University of Phoenix Stadium, Glendale, Ariz.HOW TO WATCH: ESPN
The 2014 Pro Bowl changed the game.
For 43 years, the NFL always pitted the AFC versus the NFC, but last year, the league adopted a brand new style.
Rather than basing teams off conference distinctions, Hall of Famers Jerry Rice and Deion Sanders drafted players from the pool of all stars from both conferences, meaning fans were treated to moments like this:
The change added a new element to the Pro Bowl, which linebacker Tamba Hali, who's headed back to the showcase game this year, said made the game more interesting.
"I actually like it," he said. "Last year, the guys competed more. Other years I was there, we weren't into it. Last year, you did the draft and some guys were on different teams that are on the same team and went out there and competed."
In all, of the 10 Chiefs elected to the Pro Bowl last season, five were drafted to Team Rice and five were elected to Team Sanders, and linebacker Derrick Johnson, thanks in part to that hit on Chiefs teammate Jamaal Charles, was named defensive MVP in Rice's win, 22-21.
This year's Pro Bowl will be much a different story.
Hall of Fame receivers Cris Carter and Michael Irvin selected their teams on Wednesday and this time around, something funny happened.
The Chiefs all ended up on the same side.
Charles, Hali, Justin Houston and Dontari Poe were all selected by Carter, and will face off against Irvin's bunch together.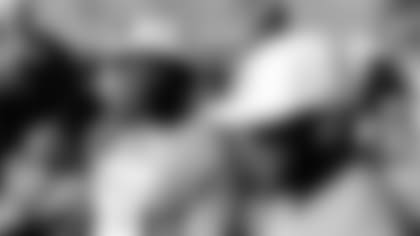 Charles was selected fifth overall in the Pro Bowl draft while Houston, who had a league-leading 22 sacks this season, wasn't drafted until pick No. 15.
The Ravens' John Harbaugh will coach Team Carter, which features Colts quarterback Andrew Luck, Bengals wide receiver A.J. Green and defensive end J.J. Watt along with the four Kansas City Chiefs.
The Chiefs will be up against Dallas head coach Jason Garrett and quarterback Tony Romo, in addition to Denver's C.J. Anderson, Emmanuel Sanders, DeMarcus Ware, Von Miller, Chris Harris Jr. and T.J. Ward, Oakland's Marcel Reece and San Diego's Eric Weddle and Darrell Stucky on Team Irvin.
The Kansas City Chiefs and other NFL Pro Bowl players attend the Pro Bowl Draft event and all are on Team Carter.