The 2015 NFL Draft begins on Thursday, April 30 in Chicago, Illinois.
In the last 20 years, the Kansas City Chiefs have drafted 27 offensive linemen, including at least one in 19 of the last 20 drafts, with the lone exception being in 2002.
In the last three drafts, the Chiefs have selected two offensive linemen in each.
With that said, let's take a look at four of the tackles available in the draft this year.
---
According to NFL Network draft analyst Mike Mayock, Collins is the top-ranked offensive tackle available.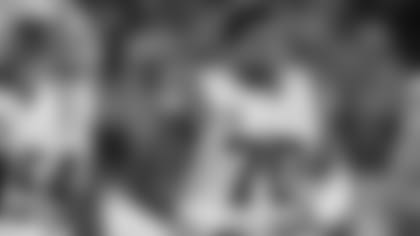 Collins, a second-team All-American and team captain in 2014, won the Jacobs Blocking Trophy, the award given to the SEC's top offensive lineman, last season.
In arguably the best college football conference in the country, Collins routinely went up against elite competition, including Florida linebacker Dante Fowler, who is widely considered a top-five pick in the draft this year.
Collins spoke about going up against Fowler last season.
"I feel like I played him as good as anybody. He definitely made me better," Collins said. "When you go back and watch my film against him, he's a top-five pick and I feel like I held my own. If you have any questions about my pass blocking, just go watch my tape against Florida."
Collins' cousin is nine-year NFL veteran and former Dallas Cowboy Marcus Spears.
Since 1966, only two LSU offensive lineman have been drafted in the first round, with the last being Alan Faneca in 1998, and Collins is hoping to be the third as he's currently projected as a first-round pick.
---
At 6-foot-7 and 313 pounds, Peat looks the part of an NFL offensive lineman, which makes sense considering his lineage.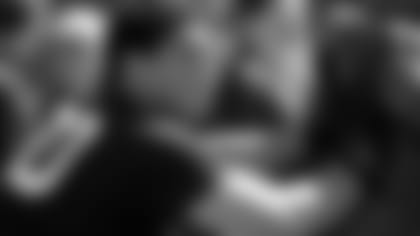 Peat's father, Todd, played six seasons in the NFL with the St. Louis-Phoenix Cardinals (1987-89) and Los Angeles Raiders (1990, 1992-93).
In the six mock drafts from the analysts at NFL.com, Peat is projected to go anywhere from the No. 8 overall pick in the first round to No. 25.
Predominantly playing left tackle in his football career, Peat has still spent some time preparing for a possible opportunity on the right side in the NFL too.
Alex Gibbs, the former NFL offensive line coach who is most notably known for his work with the Denver Broncos and their zone-blocking scheme success between 1995-2003, has been working with Peat through this process.
"I played right tackle in high school a little bit," Peat said at the NFL Combine. "In college, I played all left tackle but I've been working since the season was over in a right-handed stance too, just to prepare myself for both."
According to NFL.com's Lance Zierlein, Peat is* "big and powerful with a right tackle's play strength and demeanor, but enough foot quickness to protect on the left side. Peat has been well-coached and is one of the most game-ready offensive linemen in this year's draft."*
---
Texas A&M's Cedric Ogbuehi
One of the most interesting prospects in this year's draft is Texas A&M offensive tackle Cedric Ogbuehi, who suffered a torn ACL in the Aggies' Liberty Bowl win over West Virginia.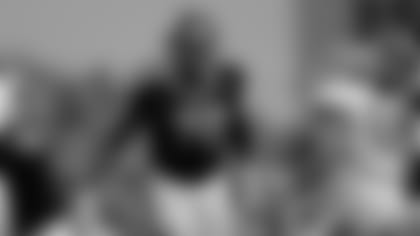 After the 2013 season, Ogbuehi was projected by many as a first-round pick, but he decided to return to school for his senior season.
Thanks to an insurance policy purchased by Texas A&M before the 2014 season, which protected Ogbuehi against financial loss due to injury and was a main selling point in getting him to return for his final season, he'll be covered.
"The insurance will cover the financial difference between where he was projected to go in the 2014 draft (Ogbuehi said he received four first-round grades) and where he lands this year."
Ogbuehi started at both left and right tackle last season for the Aggies, but also has experience playing guard, which should help him throughout this process.
Despite still being projected as a first or second-round pick, Ogbuehi was undoubtedly a popular candidate for NFL medical teams to evaluate at the NFL Scouting Combine.
According to Zierlein, Ogbuehi is a "gifted athlete with foot quickness and ability to move easily in space. Is a second-level winner. Gets on top of linebackers quickly and can adjust in space to moving targets. Played in warp-speed offense and is well-conditioned."
---
Small School Standout: Colorado State's Ty Sambrailo
At 6-foot-6 and 311 pounds, Sambrailo looks more the part of an NFL offensive lineman than he does a professional skier, but that's a decision he had to make more than 10 years ago.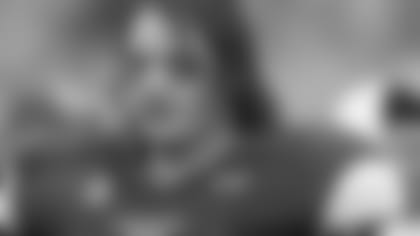 At 12 years old, Sambrailo was an accomplished alpine skier, winning regional championships while living in Northern California.
But eventually the timing of the two sports forced him to make a decision, via the Denver Post.
"I wanted to play football, and the end of football season runs into the beginning of ski season, so I had to make a decision," Sambrailo said. "I live four hours away from the snow, as we say in California, so I figured it made a lot more sense to go with football."
Despite going with football, Sambrailo believes there was a benefit to his skiing background on the football field.
"I think it's helped me a little bit," he told Dane Brugler of CBS Sports. "The ability to process info quickly because skiing you are going down a mountain at 30 miles per hour and you have to think on your feet. And I think that translates to football with making reads and reacting to movement."
As Sambrailo accepted his only Division I football offer out of high school to Colorado State, the then-265-pound offensive lineman had some work to do to put on some weight to be able to compete at the collegiate level, which he did.
Sambrailo was named a first-team All-Mountain West player after starting 11 games at left tackle last season. In his career, Sambrailo had 60 knockdown blocks.
According to Zierlein, "evaluators are all over the map on Sambrailo, but I feel like he is an interesting litmus-test player this season. While the feet and movement are pluses, his functional strength could be a hindrance to NFL success."
Gil Brandt of NFL.com believes Sambrailo has a chance to be a high second-round pick.
Photos of some of the intriguing tackles in this years NFL Draft.