The 2015 NFL Draft begins this Thursday, April 30 in Chicago, Illinois.
We've been taking a look at a few players available in each positional group throughout this series.
Here is a roundup of some interesting running backs:
Todd Gurley's 2014 campaign was an interesting one. He started the year with 773 yards rushing and eight touchdowns in only six games and then was suspended by the NCAA due to accepting money for autographs. When he was finally able to return, he tore his ACL and missed the rest of the season.
According to NFL.com draft analyst Lance Zierlein, Gurley's NFL comparison is Marshawn Lynch.
"Rare blend of speed and power," Zierlein wrote of Gurley. "Immense power in legs and shows balance through contact. Shreds arm tackles and has speed to house it. Very hard to tackle on an angle. Professional, decisive runner. Presses line of scrimmage to set up his cut-back runs. Gets downhill with knee bend and forward lean, staying small through the hole. Uses quick, tight steps to second level. Will sink and explode into tackler or side-step and jet, causing hesitation in downhill safeties with their approach. Converts "speed to power" between tackles and around corner. Rarely looks to run out of bounds and finishes his runs. Able to factor out of the backfield with soft hands and ability to adjust to throws. In 2014, churned out an amazing 61.9 percent of his rushing yardage after contact. Strong hands and carries ball tight to his body. Only three fumbles in 510 carries."
Read the full evaluation here.
Wisconsin's Melvin Gordon
As the road to the draft carries on, NFL media draft analyst Mike Mayock releases position rankings based on what he sees.
In his third version, he made waves when he ranked Oregon quarterback Marcus Mariota over Florida State's Jameis Winston.
But when it came running backs, Mayock never waivered in his four versions of rankings. Wisconsin's Melvin Gordon started and stayed ranked in the first position.
Gordon, who believes he's better than Gurley, came within 41 yards of tying Barry Sanders' single-season rushing record this past season while scoring 29 touchdowns in the process.
"Well-rounded skill set and is elite in two areas: balance and acceleration. Goes zero to 60 in a flash and bursts to top speed quickly with the vision and patience to follow blocks and find holes to daylight. Has the natural balance to bounce off contact without losing momentum with a physical nature to break arm tackles. Lowers his pads and keeps his legs pumping to generate deceiving power. Hits top speed in a flash to quickly get to the second level and beyond."
Read the full evaluation here.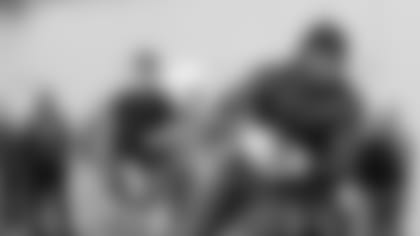 The point that stands out most about Boise State's Jay Ajayi is his dual-threat ability, as he's the only payer in Football Bowl Subdivision (FBS) history to finish with 1,800 yards rushing and 500 yards receiving in one single season.
Ajayi, a redshirt junior, is ranked third behind both Gurley and Gordon in most running back lists, and CBS Sports projects him to be taken sometime in the second round.
"Ajayi's running style and body type are very similar to LeShoure's coming out of college, but LeShoure didn't have the football character to make it in the league. Ajayi features an improving stiff arm and physicality that has become his calling card. Ajayi has the ability to play all three downs while mashing in short yardage and near the goal line. Scouts have been quietly circling Ajayi as a second-tier running back who offers good value on the second day of the draft."
Read all of Zierlein's comments here.
Nebraska's Ameer Abdullah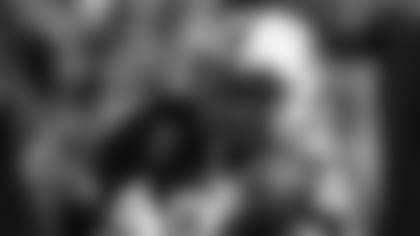 Mike Mayock chose to leave Ajayi off his top-five running back list and in his third spot behind Gordon and Gurley, you'll find Nebraska's Ameer Abdullah.
At 5-foot-9, Abdullah isn't as big as NFL teams would hope, but according to many draft analysts, he still possesses the skillset to make him worthy of a second-round selection.
Unlike the three prior players on this list, Abdullah is a college senior, and in his four-year career at Nebraska, he compiled 4,588 yards rushing with 39 touchdowns.
He was an All-Big Ten first-team selection for his efforts in 2014.
"Much tougher than he looks and lowers his pads at the point of attack. Accelerates quickly and runs with his feet on fire, controlling his momentum well to make sharp cuts and elude in the open field … Abdullah is a first-class person off the field as well with a well-respected, grounded personality and works his tail off in the weight room."
For their full evaluation, click here.
Small School Standout: Northern Iowa's David Johnson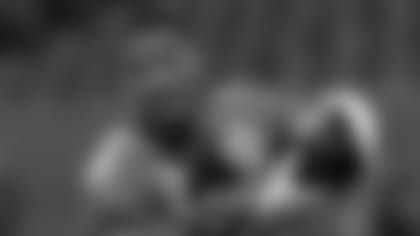 Northern Iowa's David Johnson had the only touchdown for the South in this year's Senior Bowl, and he has found himself to be a second or third-round candidate in this year's NFL Draft.
Johnson was selected to the All-Missouri Valley Football first team in both 2013 and 2014 and became the first player in school history with three 1,000-yard seasons in a row. In his four years at Northern Iowa, Johnson had a combined 49 touchdowns on the ground.
"Looks good on the hoof," **Lance Zierlein* of NFL.com wrote about Johnson. "Possesses a big body and falls forward for additional yards. Smooth pass-catcher out of the backfield and is a mismatch for linebackers. Has been a consistent weapon out of the backfield while in college. Uses an effective jump cut on inside runs to change direction and can string a couple of them together on the same run. Has good long speed when he gets into space. Has enough pop behind his pads to become a better finisher."*
Read all of Zierlein's comments here.