There are a few positions that it's easy to feel pretty good about if you're the Kansas City Chiefs right now, and two of them are on the offensive side of the ball.
The Chiefs are loaded at running back, especially given the return of one of the NFL's elite offensive players and the franchise's all-time leading rusher in Jamaal Charles, who is coming back from a torn ACL.
Just this past offseason, the two guys who stepped in for Charles and picked up the majority of his carries last year—Charcandrick West and Spencer Ware—also signed multi-year contract extensions.
When you add in fourth-year player Knile Davis, who has proven to be one of the best kick returners in the league and who also has experience carrying the ball, there's a lot to feel good about with the stable of four running backs on the roster.
The Chiefs also have Darrin Reaves, who spent last year on the practice squad developing as a running back.
The other position with good depth on the offensive side is at tight end, where Travis Kelce has proven to be one of the best up-and-coming playmakers in the NFL. Kelce recently signed a multi-year contract extension this offseason.
Demetrius Harris, the college basketball player-turned-NFL tight end who is headed into his third year in the league, also signed a multi-year contract extension this offseason.
The Chiefs also selected former Illinois State standout James O' Shaughnessy in the fifth round of last year's draft. His rookie year was cut short after a foot injury found him on injured reserve midway through the season.
Another young tight end in the mix is second-year player Brian Parker, who was picked up on waivers before last season after being released by the San Diego Chargers.
Parker saw action in nine games and played 116 total snaps for the Chiefs last season.
The Chiefs also have Ross Travis, who was on the practice squad last year.
Heading into the 2016 NFL Draft, general manager John Dorsey has routinely said that they'll take the best player available when it's their time to choose. While there's a lot to feel good about regarding these two positions specifically, adding quality talent will only strengthen an already-deep roster.
"We're in our fourth year as far as in the draft and I think we have begun to build that foundation we talked about," Dorsey said on Friday. "Now you want to add that competitive depth. There's nothing better than going into training camp having everybody competing for roles on this team.
"To me, that's what good teams do."
Ohio State's Nick Vannett (6 feet 6, 257 pounds)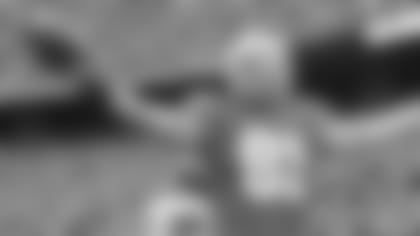 Vannett wasn't given a lot of opportunities to catch the football in Ohio State's offense, which also featured running back Ezekiel Elliot and receivers Braxton Miller and Michael Thomas, all of whom should be drafted in the first couple of rounds when the draft begins on Thursday night.
Vannett finished his senior season with just 19 catches for 162 yards, but projectable traits and potential will vault him into the first few rounds of this draft.
Vannett is NFL Network draft analyst Mike Mayock's No.4-ranked tight end in this class.
"A one-year starter at Ohio State, Vannett lined up inline, wing, slot and outside in Urban Meyer's offense and was used as more of a blocker with very few targets as a pass-catcher. Vannett lacks explosive ability and doesn't offer much shake at the top of his routes, but he is a coordinated athlete with the focus to finish contested grabs. Although he has room to refine his inline blocking, Vannett has prototypical traits for the position with his size, blocking potential and catch radius to fit various roles and schemes – should be a better pro than college player and sneak into the top 100 picks."
South Carolina's Jerrell Adams (6 feet 5, 247 pounds)
After spending one season at Fork Union Military Academy in Virginia out of high school because of academic issues, Adams committed to South Carolina in 2012 and played in 47 career games for the Gamecocks over the past four years.
Initially concentrating his time and effort on basketball, Adams didn't put his focus on football until his junior year of high school.
Adams caught 28 passes for 421 yards with 3 touchdowns for the Gamecocks offense last season, and right now he's Mayock's No.3-ranked tight end in this draft.
"A two-year starter for the Gamecocks, Adams lined up primarily inline and wing and was vastly underutilized in the South Carolina offense. He has above average speed for the position to be a seam buster down the field, but the rest of his route tree is limited due to robotic movements at the stem and catch point. Adams is unreliable as a blocker due to lack of mechanics, but flashes upside in this area when he plays like a low-post power forward, boxing out and using his core strength. He projects as a solid No. 2 option, but will likely be drafted higher than he should due to his raw measureables."
Arkansas's Hunter Henry (6 feet 5, 250 pounds)
Last year for the Razorbacks, Henry caught 51 passes for 739 yards and 3 touchdowns, averaging more than 14 yards per reception. He spent just three years at Arkansas before deciding to forego his senior year and enter the draft.
Perhaps the most important statistic of Henry's season was that he didn't drop a single pass all season, and that might be why he's Mayock's No.1-ranked tight end.
"A three-year starter, Henry was an ideal fit for the Razorbacks' multiple-tight end offense with pro-style looks that asked him to line up inline, wing and in the slot. He has the acceleration and body control to be a mismatch against linebackers and the natural strength to overpower defensive backs before and after the catch. Henry has reliable hands with fluid body adjustments to catch the ball in stride and track the ball into his mitts. He is a competitive blocker, but too easily overpowered at the point of attack, leading to him getting beat or penalized. Although he's not a reliable inline blocker at this point in his development, Henry knows how to get open and has the best hands and route running athleticism at tight end in this draft class – second round 'F' or joker tight end in the Owen Daniels mold who will contribute right away as a pass-catcher in the NFL."