The 2016 NFL Scouting Combine is underway at Lucas Oil Stadium in Indianapolis, Ind.
There are 332 prospects being evaluated by NFL decision-makers over the next several days in tests ranging from basic athletic performance, medical checks and psychological testing.
They are weighed, measured and otherwise completely dissected by NFL teams.
Each club is allowed 60 formal interviews that last 15 minutes each this week. This time gives teams a chance to get to know these players a little better.
On Friday, three edge players and noted pass rushers confirmed that they have met or will meet with the Kansas City Chiefs this week for formal interviews. Those players are Virginia Tech's Dadi Nicolas, Clemson's Shaq Lawson and Eastern Kentucky's Noah Spence.
Spence is today's spotlight player (found at the bottom of the article).
Here are a few notes from Friday:
The defensive backs arrived in Indianapolis on Friday and went through their orientation, medical checks and began their formal interviews
The offensive line and running backs began their on-field workouts on Friday
Georgia running back Keith Marshall ran an official 4.31 40-yard dash, which is the third-fastest time in Combine history
For a full list of the workout numbers, check NFL.com
---
CBS draft analyst Dane Brugler on the defensive line talent in this class and where it'll play out in the draft:
"I think we're going to start to see a run in that late first round. Some of these guys may be pushing it to the earlier second. So we're talking between 20 and 50—especially the interior defensive tackles. We're going to start to see them coming off the board. The wild card is (Robert) Nkemdiche. He's a top-10 talent in this class, but he's not a top-10 football player. So what's his value? Where does he end up going? I do think we're going to see a run on these guys probably late first, early second.
Georgia outside linebacker Jordan Jenkins on his former teammates, Ramik Wilson, Chris Conley and Aaron Murray giving him advice:
"They've just been saying go hard and enjoy the process. Just get after during the drills and don't be nervous or anything because at the end of the day your film shows what you can do. This just helps you out."
The projected top pick, Ohio State defensive lineman Joey Bosa on who he likes to watch and learn from:
"I like watching Tamba Hali. He's one of coach Johnson's guys, so when I watch him, I pretty much see the prototype coach Johnson, exactly what he coaches. So he's fun to watch."
Bosa wasn't the only guy talking about Hali. Penn State DL Austin Johnson mentioned him as well:
"Being from Penn State, watching those guys who came before me like Jared Odrick, Devon Still, Anthony Adams, Tamba Hali, just watching them with their hands, strike, what they use in the pass rush, just kind of pattern myself after them. It definitely helped a lot."
Bleacher Report's Matt Miller had high praise for Marcus Peters:
"Marcus Peters has a chance to be the best corner in the AFC next year."
---
PLAYER SPOTLIGHT: Eastern Kentucky Edge Rusher Noah Spence
Back in 2012, Noah Spence, coming out of Bishop McDevitt High School in Pennsylvania, was one of the most sought-after five-star recruits in the country
Spence ultimately chose to sign with head coach Urban Myer and Ohio State.
As a sophomore in 2013, Spence started 12 games for the Buckeyes and put up 52 tackles, 14.5 tackles for loss and 8.0 sacks, earning first-team All-Big Ten honors.
He was named to the Academic All-Big Ten team as well, but things would get rocky after that.
Over the next year, Spence failed two different Big Ten drug tests, the first of which came at the Big Ten Championship game, which led him to being suspended from the Orange Bowl and the first two games of 2014.
Then, in September of 2014, Spence again failed a Big Ten drug test, which ultimately led to a permanent ban from the conference after his appeal was denied.
Spence's drug of choice was ecstasy, and it's something he was open about when he spoke with the media on Friday at the NFL Combine.
"I'm just telling the truth," Spence explained. "My whole story, it's all out there. I'm not holding anything back."
Spence transferred to Eastern Kentucky, where he dominated last season with 63 tackles, 22.5 of which came for a loss, adding 11.5 sacks as well. He's currently one of the top defensive prospects in the upcoming draft and is projected as a first-round pick.
The time at Eastern Kentucky was good for Spence.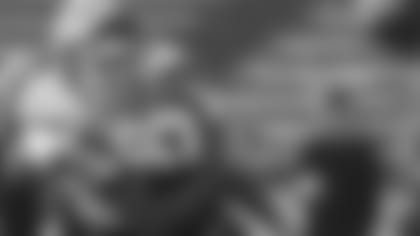 "It was a year for me to find myself," he said. "Trying to become a better person."
NFL Network's Bucky Brooks has Spence as his No. 2 pass rusher behind former Ohio State teammate Joey Bosa.
Here's what Brooks had to say about Spence:
"Disruptive pass rusher with explosive first-step quickness and closing burst. Spence wreaks havoc on opponents ill-equipped to deal with his combination of speed and athleticism off the edge. He blows past slow-footed blockers with his cat-like quickness and uses a slick 'dip and rip' move to turn the corner on the way to the quarterback. Spence's balance, body control and burst make him a threat to take over the game at any point."
Spence knows that his much-publicized past will be questioned when he meets with teams this week at the Combine, and according to NFL Network's Charles Davis, the way Spence handles those questions with all of the teams will determine whether or not teams believe he's a risk for them.
"When you're asked a question in that room, they likely already know the answer," Davis noted. "It's like being a lawyer. What do they tell you about great lawyers? Lawyers never ask questions they don't already believe they have the answer to because you might get an answer to blow up your case. So when a team asks you a question, you better come with the right stuff.
"The other part is, while team's wont share confidential information, you and I both know that they're doing to talk to each other to see if the answers were similar. If you have inconsistencies going on, that hurts a player."
Spence's former teammate and another guy who is projected as a top pick, Bosa, spoke about his old teammate on Friday as well.
"He's a great kid," Bosa said of Spence. "Everyone makes mistakes. I made mistakes. It's what you do with the second chance. As you see, he's here, he's being looked at as a first-round pick, so I think he did a great job with a second chance."
"It was just a mindset, you know what I mean?" Spence added. "I didn't want to be a failure. I kept it in my mind that I wasn't going to be, and if you can put it behind you, then you can convince the team it's behind you."
If teams feel comfortable with the way Smith carries himself in the meetings, then they'll probably going to love what he's done on the field.
"My biggest strength is pass rush," Spence said. "I think I can get better with my run-stopping abilities and playing within the framework of the defense, but I'm relentless on the field."
"The reason I connected him there is, what just won the Super Bowl?" Davis explained. "Defensive guys and edge pressure. Getting people in the face of the quarterback. We always talk about well they have that guy, they have this guy. Well Tamba [Hali] is at that stage now—age does that to people and it's not a knock on his talent, but you can never have enough of a good thing there.
"Spence is another guy that can do that and (defensive coordinator) [Bob] Sutton would really love to have that I'm sure."
Davis wasn't the only one making connections between Spence and the Chiefs.
"I like Justin Houston's film a lot," Spence answered when someone asked him which players he models his game after.
"I get on YouTube and steal all his moves," he later added.
Whether it's Kansas City at No. 28, or even as high as No. 10 to the New York Giants, as NFL Network's Daniel Jeremiah currently has him pegged, Spence is just looking forward to playing football.
"I don't have any expectations," he said. "I'm blessed to be in this situation. I didn't think I'd be back here, so wherever I go is fine with me."