There's nothing more disruptive to an offense than a group of defensive linemen who can impose its will and have its way up front.
That's what every defensive coordinator is looking for from that group in the trenches, and its made up of the kinds of players that NFL personnel men are hoping to add to their rosters later next month during the 2017 NFL Draft, which takes place April 27-29 in Philadelphia, Pennsylvania.
For the Kansas City Chiefs, who hold 10 picks in total, the addition of a defensive lineman in this draft would make it four out of five years that the group was addressed by general manager John Dorsey and company.
The Chiefs' Recent History Selecting Defensive Linemen
Here's a look at what Dorsey and company have done along the defensive line:
Chiefs Draft History Under GM John Dorsey - DL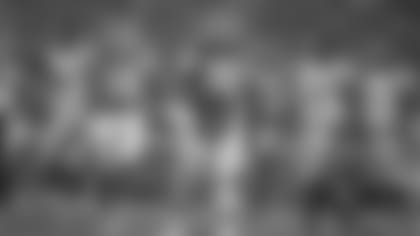 Experts Rank Top 5 Defensive Linemen in 2017 NFL Draft
Malik McDowell - Michigan State
Malik McDowell - Michigan State
Montravious Adams - Auburn
Malik McDowell - Michigan State
Malik McDowell - Michigan State
Larry Ogunjobi - Charlotte
Malik McDowell - Michigan State
Dalvin Tomlinson - Alabama
Elijah Qualls - Washington
Tanoh Kpassagnon - Villanova
Five More Intriguing Defensive Line Prospects You Should Know
Here are a handful of other defensive line prospects who are intriguing for one reason or another, and a section from their scouting report from NFL.com:
"Excited to play football on every single rep. Times up snap and is quick into the neutral zone. Always searching for the ball. Uses hand quickness to disengage and tackle on time. Good football instincts and quick to recognize and react to screens. Plays with quick hands and quick feet that get him in position to make plays…Able to fill a stat sheet up against both run and pass. Feet and hands are a whirlwind of action that never stop looking for improved positioning. Catches blockers under their pads and has the leg drive to bull them back into the pocket."
NFL Comparison – Rakeem Nunez-Roches
"Active defensive tackle with the motor and athleticism to find production in the NFL. Johnson doesn't have the functional anchor that teams looking for a run-stuffer will be after. However, his effort, foot quickness and hand usage should create opportunities for him as a pass rusher. Johnson has the talent to become an eventual starter as a three-technique in a penetrating defensive front and could fight for rotational reps early on as a rookie."
NFL Comparison – Ziggy Hood
"Jones has a freaky combination of power and athleticism that isn't seen all that often. While his playing style is reminiscent of Grady Jarrett's, keep in mind that he's a bigger player…If a coach can unlock more consistency, Jones has a chance to flourish as a one-gapping nose with three-down ability."
NFL Comparison – Grady Jarrett
"Former walk-on with hard-hat demeanor. Willing fighter in trenches and refuses to give blockers a snap off. From football family. Big brother, Graham, starred at Michigan and now plays for Lions. Muscular and rugged with no bad weight on his frame. Has power in his upper body and uses a powerful club move along with a pull-and-shuck technique to get rid of blockers. Technician as interior run defender."
NFL Comparison – Matt Ioannidis
Highlighting Michigan's Ryan Glasgow (6'3", 302lbs), who had 9.5 TFL & 4 sacks last season. He was the Wolverine's "DL of the Year" in 2016. pic.twitter.com/r2mU5yrP9S — BJ Kissel (@ChiefsReporter) March 23, 2017
"Phone booth defender who has good length and the power to fight for control at the point of attack. Jones' strength is his ability to play the run and he could be a physical fit for 3-4 teams looking to add a run defender to their linemen corps. His inability to get the quarterback will cap his draft slotting but he does have pro potential."
NFL Comparison – Joel Heath
Why Adding a Defensive Lineman Makes Sense for the Chiefs:
The best way for any defense to wreak havoc on an offense is to win in the trenches, and with general manager John Dorsey using three of his top four picks since arriving in Kansas City on players in the trenches (Eric Fisher, Dee Ford, Chris Jones), the addition of another playmaker along the defensive line could make some sense.
It certainly paid dividends last year with Jones, who had a fantastic rookie season for the Chiefs and helped step in with veterans Allen Bailey and Jaye Howard being injured.
Nunez-Roches, the former sixth-round pick in 2015 out of Southern Miss., also stepped up and showed some promise last year in the absence of Bailey and Howard, who will both return from their injuries in 2017.
The Chiefs also recently signed former Philadelphia Eagles defensive lineman Bennie Logan.
Dorsey has consistently said it's about looking towards the future, which means he's also taking into account 2018, 2019 and beyond when he's making roster decisions. We'll see in a few weeks if he decides to add some more depth to an already talented defensive line group.