While the New England Patriots and Atlanta Falcons get ready to square off in the Super Bowl next week in Houston, the rest of the NFL has already turned its attention to the future, and this week, that means descending upon Mobile, Alabama—site of the Senior Bowl.
Every year, since 1951, the most important decision-makers in the NFL travel to this waterfront town off the Gulf of Mexico, and according to the Senior Bowl website, more than 30 percent of NFL rosters are made up of players who attended the Senior Bowl in their respective years.
"It's the beginning of the process of how we do our season," Chiefs general manager John Dorsey said of the Senior Bowl week last year. "It's the best of the senior class within this year's draft, so it gives you a chance to really put your hands on these players, watch them move around, watch them compete.
"It also gives you a chance to kind of, for the first time, really to see who they are as people as well."
Here's a look at some current Chiefs who attended the Senior Bowl:
Current Chiefs Who Were in the Senior Bowl
The Senior Bowl and the week of practices leading up to the game on Saturday is the last time some of the best college prospects available in the upcoming draft will be wearing pads.
Thus, this is the last audition of "real football" for these guys, and the first of a handful of the biggest interviews in their lives.
Over the next few months, these players will take visits to teams' facilities, hold Pro Days and for many, attend the NFL Scouting Combine in Indianapolis.
While scouts and general managers have been doing work on these guys all throughout the fall and over the last few years, the Senior Bowl gives these decision-makers a chance to sit down and meet and talk with these players for the first time.
They get to find out what makes these players tick.
The teams are split into "North" and "South" and are coached by NFL staffs with four practices during the week and then a game on Saturday. Hue Jackson and the Cleveland Browns will coach the South team, while John Fox and the Chicago Bears will coach the North team.
It's a chance for more than 100 of these players, who come from all different levels of play, to be judged and evaluated on the same field.
"It's important because it puts everyone on the same stage," Bleacher Report's lead draft writer, Matt Miller, explained. "If you played at Western Kentucky, or if you played at LSU, you get watched the same and coached the same, so it levels the playing field. My favorite line is, 'The combine is a track meet, but the Senior Bowl is about football.'
"If you're just a really good player, this is your chance because you get to put the pads on for the last time in front of all the scouts in the league."
Perhaps the most important aspect of this week is for players who haven't faced this level of competition consistently during their college season.
A few years ago, Chiefs left tackle Eric Fisher had a phenomenal Senior Bowl week, which was important for him coming out of Central Michigan.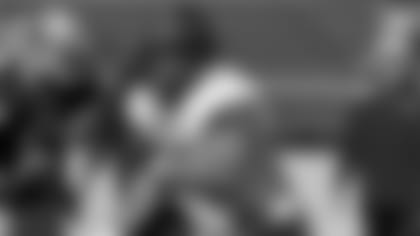 Eric Fisher at the Senior Bowl
Three years ago, Arizona Cardinals running back David Johnson had a phenomenal week in Mobile coming out of Northern Iowa, and that's obviously carried over to the field for him.
This year, Miller is excited to watch these small-school guys.
"I think the small-school guys stand out the most," Miller said. "On the offensive line, I want to see Forrest Lamp (OG, 6'4", 305 pounds) from Western Kentucky. What's cool about him is that I saw him play Alabama, and he shut those boys down, so it's like you've already seen him do it against big competition, but just this week, he's got to do it again and watching him work out there is going to be important."
Miller went on to say that Lamp's performance against Alabama was one of the best games he saw from anyone all year.
"Antonio Garcia from Troy is another small-school guy, a left tackle—didn't give up a sack all year and had 70 knockdowns—he is 6 feet 7, 302 pounds," Miller added. "I just want to see him against bigger and better competition that's not the Sun Belt."
When it comes to small-school skill position players, there are plenty to choose from, but Miller said receiver Cooper Kupp from Eastern Washington intrigues him.
"I love watching that kid play," Miller said. "It's going to be a cliché, but he is such a good route runner, and he is so much more explosive than he's probably getting credit for. He can probably make some money and move up this week.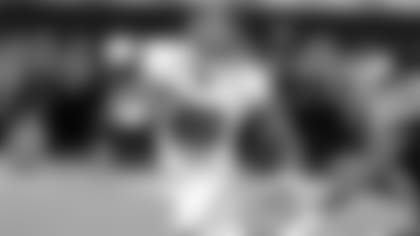 "The big school kids—Alabama linebacker Ryan Anderson and tight end O.J. Howard—will be fun to watch, but the small-school guys and just seeing how they do against this competition will be fun this week."
ESPN draft analyst Mel Kiper recently put out his top 15 prospects at this year's Senior Bowl, and it included Kansas State edge rusher Jordan Willis, who came in at No. 2.
Here's what Kiper had to say about Willis:
"In a class loaded with pass-rushers, don't count Willis out as a potential first-round pick. He's really good. Willis (6 feet 5, 250 pounds) had 21 sacks for the Wildcats the past two seasons and was the Big 12 Defensive Player of the Year in 2016.
"Consistency is what stands out – you know what you'll get from Willis every play. He also holds up well against the run, which is important in the NFL. He's my No. 7 defensive end, but he could move up with a standout week of practices."
Kiper also mentioned Howard (No. 1), Lamp (No. 3), Anderson (No. 4) and a trio of cornerbacks in LSU's Tre'Davious White (No. 5), Michigan's Jourdan Lewis (No. 9) and Iowa's Desmond King (No. 10) as some of his top prospects to watch this week in Mobile.
Considering the Chiefs drafted Eric Fisher (2013) and Dee Ford (2014) with first-round picks, and both were standouts during their respective Senior Bowl weeks, Dorsey and the Chiefs' personnel staff obviously put a lot of stock into the information they continue to gather on these players leading up to the draft. So while there's a lot of pressure on these players to perform well this week, there's also a lot of pressure on these staffs to get the evaluations right as well.