Tragedy struck so many of those that call the Midwest home over the last several weeks as flood waters made their way throughout the region. Roadways, homes and businesses are still underwater in many areas along the Missouri River.
The devastation is real, and as Draft Fest rolls around this Saturday, the Kansas City Chiefs are doing their part to help.
Draft Fest –  an exclusive, family-oriented event for Season Ticket Members at Arrowhead – will feature a 50/50 raffle benefiting the American Red Cross and their efforts in flood relief.
It's an opportunity for Chiefs' fans to directly help those impacted by the disaster, which has claimed 441 homes in northern Missouri alone.
"Lots of people have lost their livelihood – not only their businesses, but their homes," said Angie Springs, Communications & Marketing Manager at the American Red Cross of Missouri & Arkansas. "It's devastating, but the Red Cross was prepared. We've been there to shelter folks who can't be in their homes and we've been there to meet their immediate needs such as food, clothing and essential medications."
In fact, the Red Cross has served more than 3,500 meals, 6,000 snacks and distributed more than 5,000 clean-up supplies – like rakes, shovels, buckets and gloves – to nearly 600 households in northwest Missouri.
It's an impressive feat that's changing lives, but the organization needs help to keep it up. That's where the 50/50 Raffle comes into play.
Attendees can purchase three tickets for $5, 10 tickets for $10 or 60 tickets for $20, with half of all funds raised benefiting those affected by the flooding right here in Chiefs Kingdom.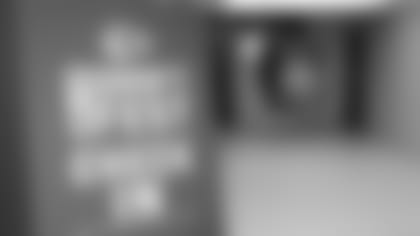 It's a way to ensure the Red Cross can keep assisting those in desperate need of help.
"As we look to support these folks, something that I always remind people is that the Red Cross is not a government agency. We are congressionally charged to do what we do, but we're not funded by the government. We rely solely on the generosity of the American people," Springs said. "Over 90 cents of every dollar raised goes directly out to serve those in need."
And for those not attending Draft Fest, there's still a way to get involved, as fans can donate directly to the American Red Cross' flood relief efforts through this link.
This community has proven time and time again what it can accomplish when rallying around a common cause, and if history is any indication, the American Red Cross – and the individuals they're serving – is in store for a major lift.
"This impacts and means so much to those that we serve," Springs said. "Whether it's the 89-year-old widow who gives us $1 or a major cooperation donating $1 million, that money is impacting lives. When everybody comes together and just gives a little bit, we're making tomorrow just a little better for these folks in need."
For those not attending Draft Fest that would still like to donate, click here.