The wait is over Chiefs Kingdom.
Football is finally back as 35 Chiefs players took the field as quarterbacks, rookies and players coming back from injury worked out this morning in St. Joseph, Missouri.
While they weren't in pads, there were still plenty of things to take away from this morning's practice. Most notably, the veterans coming back from injury who found their way back to the field and looked good in the process.
Among those players was second-year player Travis Kelce, the athletically-gifted tight end who stood out early in last year's training camp before going down with an injury.
Kelce spoke briefly about what last season was like for him.
"It was tough just because I couldn't be out there with the team," Kelce said. "The fact that we went 9-0 the first nine games, it was easier than if we were losing. But at the same time, I'm a guy that just wants to go compete. So it was pretty tough for me."
Today, Kelce was able to get down the field on some of his routes, make some cuts and accelerate up the field after making some catches, which is a step in the right direction after coming back from injury.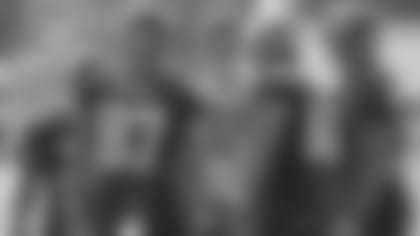 He finds himself right in the middle of one of the most exciting positional groups to watch throughout training camp, and that's the tight end group.
Veterans Anthony Fasano, Richard Gordon and Sean McGrath will join the team later this week when they report on Wednesday, but Kelce, along with Demetrius Harris, showed their athleticism and versatility today at practice.
Harris is one of the players who really stood out during OTAs, albeit today was without pads and that will be the ultimate test, it was another good day for Harris, who seems to have been putting plenty of those together lately.  
Also joining Kelce coming back from injury was wide receiver Kyle Williams, who came over last year from the San Francisco 49ers and suffered a torn ACL less than a week after he arrived in Kansas City.
Williams understands how important these three practices are for him as the rest of the veterans report on Wednesday.
"For a guy in my situation, coming off an ACL (injury), it's huge," Williams said. "You get to knock those cobwebs off and kind of get back into the swing of things before we really get going."
Williams worked on getting rid of those cobwebs catching passes from the four quarterbacks who took the field today. They were veterans Alex Smith and Chase Daniel, as well as second-year player Tyler Bray and rookie Aaron Murray.
Daniel spoke about competition and what the goals are each day of camp.
"Get better every single day. Push Alex as much as possible and try to beat him out," Daniel said. "That's what brings out competition. I know Tyler (Bray) and Aaron (Murray) are coming after me. I know I am going after Alex. We are all pushing each other to get better. When you have a lot of competition on your team, you are competing at the highest level."
Daniel and the Chiefs will take the field again tomorrow morning after a walk-through this afternoon, with the first practice opening to the public on Thursday afternoon at 3:30 p.m.
We'll keep you updated here at KCChiefs.com with all of the latest news from training camp. Follow me on twitter for instant camp updates and photos @ChiefsReporter.