In front of a record-breaking crowd on the campus of Missouri Western State University, the Chiefs took the field with pads on for the first time in training camp.
To be exact, it had been 210 days since the Chiefs had last worn pads as a team.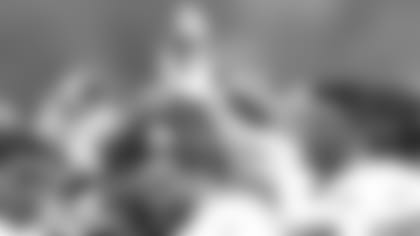 The sounds of pads popping, along with some Michael Jackson's P.Y.T. to kick-off offensive team work, which was a change from the Metallica that fans had experienced on Friday, was a welcomed sight for the 6,200 in attendance here in St. Joseph, Missouri.
The number of fans, which set a record for number of people attending a training camp practice away from Spratt Stadium since camp came to St. Joseph five years ago, energized the team and was something coach Andy Reid enjoyed.
"The fans were unbelievable," Reid said. "We appreciate them and they kind of push you through that first day in pads when you get a little tired those last couple of periods, those fans get you going and you roll, so we appreciate that."
On the field, Reid was not only encouraged by the conditioning of the players, but he liked the way the players got after it for the first time with pads.
"I like the way they challenged each other, back and forth," Reid said. "It sounds kind of elementary but I think it's an important thing. You don't want one side dominating when you've got the 1's vs. the 1's. You want them going back and forth and challenging each other."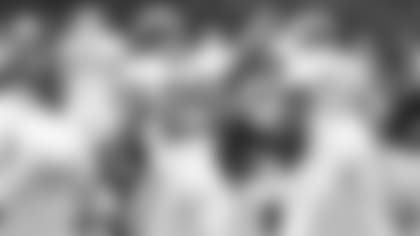 In regards to which positional groups stood out to him today, Reid liked what he saw from a couple of groups.
"I thought the secondary and the linebackers did a good job," Reid said. "I thought both lines traded punches back and forth—they did a good job there. It was just good, hard work in there, which is important."
When asked specifically about linebacker Nico Johnson, who had some first team reps on Saturday, Reid was complementary of the second-year inside linebacker.
"Nico (Johnson) is making improvement," Reid said. "He came back in phenomenal shape and he's a big guy so you're looking at a big, strong linebacker. You could see the strides that he's made over the last year."
Defensive backs Sanders Commings (foot strain) and David Van Dyke (hamstring), along with running back Joe McKnight (knee) worked off to the side again today with trainers.
Offensive lineman Rokevious Watkins was not at practice (back).
Tight end Sean McGrath, who hasn't practiced here at training camp, informed team he is retiring.
Receiver Junior Hemingway (hamstring) was limited for part of practice.
Safety Eric Berry dislocated a finger during practice.
Placed on Reserve/DNR: TE Sean McGrath
Waived: OL Rokevious Watkins
Awarded via waivers from TENN: TE Adam Schiltz
Chiefs continue working at training camp on Saturday.