When you're coming off spending a full year on a team's practice squad, all you can hope for is a chance.
In the first month of training camp with the Chiefs, Frankie Hammond has both received that chance and made the most of it. In three preseason games, he is tied for first among all Chiefs receivers in receptions with six, and besides Travis Kelce's 66-yard touchdown, has the longest reception of the preseason with a 33-yard catch against the Panthers.
On Tuesday at practice, Hammond continued taking reps with the first team.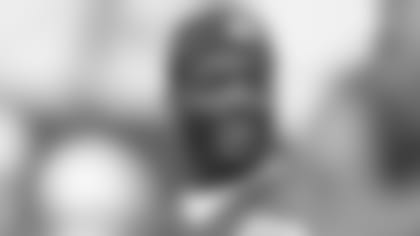 "Frankie has had a great camp and offseason," Alex Smith said of the receiver. "Collectively as a whole, our receiver group I think has had a great offseason and great camp, [and has] really stepped up. We've got a lot of depth and Frankie's a big part of that."
With starting wide receiver Dwayne Bowe out week one against Tennessee due to suspension and Junior Hemingway dealing with a hip injury, Chiefs head coach Andy Reid has had to figure out who could fill that void.
On Tuesday, he all but confirmed that Hammond would be the man for the job.
"Frankie can do it," Reid said. "He did a nice job for us and [he is] a pretty good football player."
Along with commending Hammond, Reid mentioned that he typically does not play the first team in the fourth preseason game and will continue with that strategy at most positions Thursday. At quarterback, Chase Daniel will play the first quarter and Tyler Bray and Aaron Murray will split time the rest of the game.
Reid also said that Jamaal Charles, who has only had three carries this preseason, will "probably not" see time.
The three-time Pro-Bowler did not seem worried.
"I've been in the league for a long time," Charles said after practice. "I've had plenty of carries before. Having three carries in preseason doesn't make me because it doesn't count. The real games count. Week one against Tennessee is the one I'm worried about."
For the second day in a row, safety Eric Berry practiced with the defense. But unfortunately for the Chiefs, a new face missing from the field Tuesday was linebacker Tamba Hali after he suffered swelling in his knee yesterday. Because of the swelling, Hali will not travel or play against Green Bay Thursday, but is expected to be ready for the home opener on September 7.
Tomorrow will be a travel day for the Chiefs with one game left between now and as Charles alluded to, the real games that count.
The Chiefs practiced in shorts for the second day in a row
WR Dwayne Bowe, DL Mike Catapano, OL Eric Fisher, LB Tamba Hali, WR Mark Harrison, WR Junior Hemingway and LB Joe Mays did not practice