After not playing Week 1 against the Tennessee Titans, veteran wide receiver Dwayne Bowe is set to return to the Chiefs lineup this Sunday against the Denver Broncos.
On Wednesday, he returned to the practice field with the team.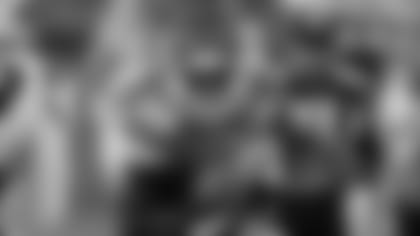 "We'll ease him back in and make sure he gets back into the swing of things," Chiefs head coach Andy Reid said of Bowe. "He really hadn't done much for a few weeks."
Following a finger injury in training camp, Bowe suffered a quad strain towards the end of the preseason, preventing him from participating in many on-field activities even leading up to the game against the Titans. In that one, rookie Frankie Hammond Jr. did his best to step up and fill the void.
"Frankie did a nice job for what we asked him to do in the game," Reid said.
Since being drafted by the Chiefs in 2007, Bowe has played an integral role for the franchise, leading all Chiefs receivers in receptions every season he has played in the NFL.
"Dwayne has been a big part of the offenses here since he has been here," Reid said of the 29-year old. "He's somebody that the quarterback has a lot of trust in and a lot of reps with and he has got a high skill level so he's always got a pretty good chunk of our offense for every game week."
When asked where he missed Bowe the most in the game against the Titans, quarterback Alex Smith couldn't put his finger on just one.
"There's a lot of different facets," he said of his primary target. "Dwayne's the type of player that contributes everywhere, on all areas of the field and in all situations."
Of all his years as a Chief, Bowe's best season was undoubtedly 2010, where he caught 72 passes for 1,162 yards and 15 touchdowns. His efforts led him to the only Pro Bowl honor of his career. Since then (2011-2013), Bowe scored 13 touchdowns.
Wanting to improve his shape, this past offseason, Bowe hired a nutritionist and a personal trainer for the first time ever in his career. During OTAs, he told the media that he came back for 2014 in the best shape of his life.
"I liked what I saw there and he came back in great shape and we're expecting him to have a real good year," Reid said.
Following the 26-10 loss to the Titans in Week 1, Reid hopes that the reinvigorated wide receiver's return can propel the Chiefs to their first win of the season this Sunday.
With linebacker Derrick Johnson placed on the IR, the Chiefs will have a new defensive play caller on Sunday. Reid said defensive coordinator Bob Sutton has yet to make a decision on whether James-Michael Johnson or Josh Mauga will get the call.
Including newly-signed defensive lineman Kevin Vickerson and new practice squad players, six fresh faces hit the practice field for the Chiefs on Wednesday.
OL Jeff Allen, LB Tamba Hali and RB De'Anthony Thomas did not practice.