Chiefs head coach Andy Reid announced that right tackle Jeff Allen underwent surgery on his bicep tendon on Friday, ruling him out for the game against the Denver Broncos and likely sending him to the Injured Reserved list.
"He'll most likely be out for the season," Reid said of the third-year offensive lineman. "He is not listed as out for the season yet. He is out for this game though."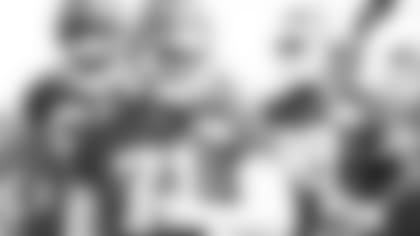 Replacing Jeff Allen in the lineup will be Ryan Harris, who filled in for 18 snaps when Allen left the game early last Sunday against the Tennessee Titans. Against the Broncos, he will get the start.
"He had a good camp," Reid said, explaining why Harris is the next man up. "He's got a little experience so you put him [and] you let him go. He understands the offense."
Harris, who seemed ready to take on the challenge, knows how much a win Sunday could mean for the Chiefs season.
"Any divisional game in the AFC West has heightened importance," Harris said yesterday. "This is a divisional game in a close division and you want to win that game."
After losing Mike DeVito and Derrick Johnson for the season last week, the news on Allen adds another hurdle the Chiefs will need to overcome as they push for the playoffs this season.
That point noted, Reid, who has been in the league as a coach since 1992, recognized Friday that the Chiefs simply need to push forward.
"Things happen in this business," he said. "You know that, so the next guy steps in and they do their job to the best of their ability."
Also out of the lineup against the Denver Broncos will be rookie running back De'Anthony Thomas, who has been dealing with a hamstring issue. Last Sunday, with Thomas out, wide receiver Frankie Hammond Jr. served as the team's punt returner.
Linebacker Derrick Johnson had successful surgery on his Achilles tendon on Wednesday; defensive lineman Mike DeVito had successful surgery on his Achilles tendon on Thursday.
Coach Reid said that he has no new updates on DL Mike Catapano, who has been out with an illness since training camp.
Despite being limited in what he could do in practice this week due to a sore ankle, LB Tamba Hali is expected to play this Sunday against the Broncos.
After practice, the Chiefs announced the signing of cornerback Jamell Fleming.