With starting running back Jamaal Charles out last Sunday against the Dolphins, the Kansas City Chiefs needed to find other ways to score.
In a heightened role, Joe McKnight excelled. His six receptions for 64 yards were the most in each respective category for Chiefs, and he scored the first two non-return touchdowns of his career.
Out of football in 2013, it had been a long road back for McKnight.
During practice on Thursday, McKnight suffered a ruptured Achilles tendon, an injury that will in all likelihood mean the end of his season.
"It tugs at your heart a little bit because he did battle through not only injury here but injury in New York," Chiefs offensive coordinator Doug Pederson said. "He was a guy that brought some energy to that room."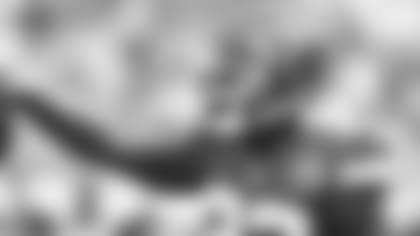 McKnight marks the third Chief to fall to a ruptured Achilles after the first two cases sent both defensive lineman Mike DeVito and linebacker Derrick Johnson to the Injured Reserved list.
As could be seen last Sunday, McKnight possesses a natural pass-catching ability, something that won't necessarily be easy to replace. But fortunately for the Chiefs, there are a number of viable candidates.
"We've been blessed to have depth at that (running back) position," Pederson said. "It gives again, an opportunity for Knile (Davis) to continue to improve and continue to get better and have another good game as he did this past weekend. Cyrus (Gray) is in that same situation."
Aside from Davis and Gray, a player worth watching in games to come* * especially now is rookie running back De'Anthony Thomas.
Thomas, who has yet to play in an NFL regular season game due to a lingering hamstring issue, has been practicing with the Chiefs in limited fashion all week. The team hopes to have him back as soon as possible.
"Each week, as we go, there's going to be specific plays [for him]," Pederson said of Thomas. "Much like we did with Joe (McKnight) and much like we did with Jamaal (Charles) and Knile (Davis)."
Looking past the tough injury, the Chiefs hit the field at the University of Kansas Hospital Training Complex on Friday in the second of three practices in preparation for the New England Patriots.
While the reason so many season-ending injuries keep happening to the Chiefs remains unexplainable, the team continues to move forward by keeping with the next-man-up mentality.
"I really can't put a finger on it," linebacker Tamba Hali said of all the injuries. "[We] just have to keep working. These things happen. It's part of our game."
S Eric Berry (high ankle sprain) and RB Joe McKnight (Achilles) did not practice.
RB Jamaal Charles (ankle), LB Tamba Hali (ankle/knee), CB Sean Smith (groin) and RB De'Anthony Thomas (hamstring) were all limited.
Chiefs trainer Rick Burkholder revealed that DL Mike Catapano was placed on Injured Reserve with "a gastro intestinal virus and concussion."
From Joe McKnight's official Twitter account (@OfficialJoeJet): "Something good will come from this #imnotdone"