It's officially game week at the University of Kansas Hospital Training Complex.
Chiefs star Jamaal Charles was well aware of that fact early this morning when he was shaken from his slumber by running backs coach Eric Bieniemy.
"I know my running backs coach—he's really excited," Charles playfully told the media Wednesday. "He texted me at 6 o'clock in the morning. I told him 'I was still asleep and don't do that anymore.'"
Bieniemy, known for the passionate attitude he brings to the Chiefs every day, likely was using the text as a way to instill that same feeling in Charles, who himself realizes has a big year ahead of him.
"I'm excited to get back on the field and start making more history again," Charles said. "I have more records out there to break."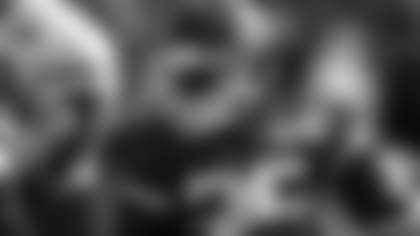 Charles currently sits in third place on the Chiefs all-time rushing list with 5,823 yards for his career, 192 short of Larry Johnson for second place and 247 short of fellow University of Texas alum Priest Holmes for first. By playing well and staying healthy, it's very possible that his words will come to fruition sooner rather than later.
The man who will hand the ball off to Charles is sharing in that feeling of anticipation now that the preseason is behind him.
"This is it. [In the] preseason, no question, you want to go out there and win every game," quarterback Alex Smith explained. "You want to play well and execute but as soon as that fourth preseason game is done, the slate is clean. No one remembers and no one cares what your record is."
Smith, who enters his ninth year in the league, looks to build upon a season of work where he completed 308 of 508 passes for 3,313 yards, 23 touchdowns and just seven interceptions. In a media session Wednesday, Smith was asked about the importance of making a statement on Sunday.
"I mean the statement's the win," Smith said. "That's all we're worried about is just trying to find a way to win. Every team in the NFL is trying to do the exact same thing and Tennessee is trying to do the same thing. You just hope you've done all the little things preparing and then the little things on game day to give you the edge."
For the "little things" against Tennessee, that's where the preparation of head coach Andy Reid will come into play.
"We have to make sure that we prepare ourselves [and] go through all the steps that it takes here each day and take care of business," he said. "Learn the game plan, learn the personnel that we're playing against, understand the schemes and then go play."
To accomplish that, the Chiefs hit the practice field on Wednesday and will do so once again Thursday and Friday as they get set for the Titans.
The regular season has come and as expectation for Sunday continues to build, no player will need a 6 a.m. text to tell you that.
C Eric Kush (shoulder) did not practice; he is being monitored and has not been ruled out for the game Sunday.