Ever since Chiefs rookie running back De'Anthony Thomas ran 80 yards for a touchdown in the preseason game against the Cincinnati Bengals, anticipation has been building to see what he could do in regular season play.
Unfortunately, that may not happen this week against the Tennessee Titans.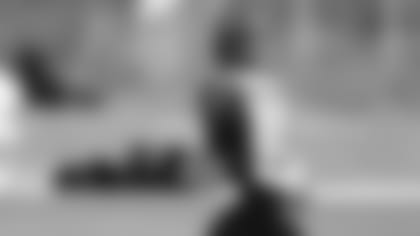 Thomas slightly injured his hamstring earlier this week in practice, and though he was said to be making progress on Friday, head coach Andy Reid still is unsure if he will play.
"De'Anthony ran the treadmill and actually ran pretty fast on it," Reid told the media. "He'll be a stretch for the game. We'll just see how he does."
If Thomas can't go, Reid confirmed that Frankie Hammond Jr. would replace him at the punt returner position.
As the team approaches Sunday with a fresh offensive line, Reid also took time to acknowledge the importance the unit will play in the success of the offense.
"They always rise to the challenge and they have a good test this week," he said. "They've got to be the foundation of that offense."
After working in shorts on Friday, the team's attention now shifts to final game preparation. With a week of practice in the books, Reid is looking forward towards playing the Titans.
"We know it's a great challenge and we're excited to have the opportunity to play them," he said
The Chiefs host the Tennessee Titans on Sunday at 12:00 p.m. CST.
After taking all football-related questions, Coach Reid commended Chiefs fans for their Red Friday effort: "Red Friday is unbelievable. The community is fired up for the Chiefs and the Chiefs are fired up for the community. That's always been a good relationship between the two. We, I'm talking as the coaches and players, we appreciate the support in which the community gives us."
Running back De'Anthony Thomas (hamstring) did not practice today.
CB Marcus Cooper and C Eric Kush returned to practice.