The Kansas City Chiefs return to the practice fields at the University of Kansas Hospital Training Complex later today, following the 17-16 defeat of the Houston Texans on Sunday.
The Week 7 win was yet another case of a three-phased phenomenal effort that continues to be a victorious trend for Chiefs head coach Andy Reid and his team.
"You know, I think it's a close group," coach Reid said. "Even before the wins, I thought it was kind of a close group. I think the more experiences you have together, especially when you work through the tough times, you kind of balance out the good times, where it's not too high or too low. I think within that, there's a certain confidence that comes with going through those experiences together. A trust, maybe more than confidence, a trust in each other; if one guy is off, then the next guy will pick it up and vice versa. I think it's the same way between player and coach and I think there is a confidence and a trust that you have with each other as you go with time. You have to go through these experiences, these growing experiences."
According to Chiefs CB Brandon Flowers, those growing experiences began during the team's training camp in St. Joseph, Missouri on the campus of Missouri Western State University.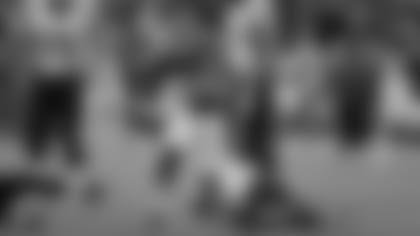 "We've created this bond that is built in us that won't break," Flowers said. "It started in training camp and it's panning out with all of these hard wins. We're finishing plays and just being a fourth-quarter team; it doesn't do anything but get us better in the long run."
The Chiefs seventh-straight win in 2013 again showcased the brotherly attitude that each player has on the team, accompanied with an uncanny accountability.
Flowers, who had a team-high six tackles on Sunday, as well as one sack, one tackle for loss and two QB hurries, spoke more to what seems to be the mantra of this team.
"I think it was a team win, because the defense started slow and the offense was putting up points," Flowers said. "We went into halftime ahead and we felt like we gave up too many big plays. When the offense needed us, we stepped up and vice versa; that's a sign of a great team. When we see each other on the limb, we tell each other that we need to step up. We don't just do the talking; we actually make it happen. That's it."
Following Sunday's win, Chiefs QB Alex Smith was asked how comfortable he is with his team's defense and his response exemplified the accountability that every player embraces on this team.
"The unfortunate thing is we gave them some short fields today," Smith responded. "Then, in the second half, they played lights out, with the fumble and holding them to three is a huge stop. I think our defensive caliber, statistically, it's going to be hard to drive the length of the field, all day. You're just not going to do it that many times. You play good team football."
One of Smith's many targets on Sunday, Chiefs WR Dexter McCluster, who had four catches for 70 yards, also described the Chiefs defense.
"Those guys get us better, throughout the week," McCluster said. "Those guys are tough. When we do have three-and-outs, we never flinch, because we know our defense is going to step up and make things happen."
And when asked to identify one common building block of the Chiefs foundation that has led to their remarkable start, Chiefs Pro Bowl S Eric Berry needed one word.
"Family," Berry said. "That's it. Sometimes on defense, we couldn't get a stop; they got some big plays on us, but shoot, our offense came and battled back. Our special teams came and battled back. If our offense stalls, we bring it back. That's the whole thing. That whole game was just the epitome of being a team. That's all we did; we stuck together, kept fighting together, fighting for each other and we're going to keep it going."
Fellow Chiefs S Kendrick Lewis finished Sunday with four tackles, one pass defensed and one tackle for loss, which came on a 2nd-and-1, from the Chiefs one-yard line, when Lewis stuffed Texans RB Greg Jones for a two-yard loss. Lewis described the reason for the team-wide confidence in 2013.
"There's something special about this team," Lewis said. "It's something special. No matter what the situation is we're all together. We're all pulling for each other, knowing that we're going to come out with a big win."
As far as summarizing the team's successful start to the season, Chiefs Pro Bowl LB Derrick Johnson fittingly put a bow on last Sunday's win, with a comment that assures Chiefs fans that this team is anxious to get back to work today at practice.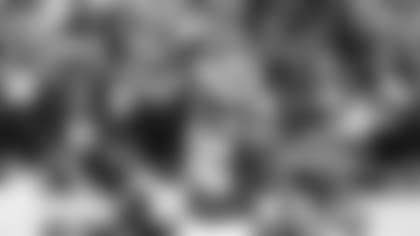 "Feels great," Johnson said. "The best thing about this team, we've had a lot of bad luck in the past; we're taking success the right way, being very humble about it. Character speaks after a win and we will still come back and grind like we're losing. We'll come back and try to get to 8 and 0. It's a great feeling. We're loving it."
Chiefs Kingdom agrees and can't wait to see what happens on Sunday, but not before another week of game planning and hard work is complete.
Practice begins today at 1:20 PM CDT.