When the Kansas City Chiefs first signed Frank Zombo in 2013, they were confident the former Green Bay Packers Super Bowl Champion LB would provide the necessary talent and depth to the club's LB corps; he didn't disappoint. Zombo's stat line for his first year in Chiefs red included 16 games played, five starts, 20 tackles, three assists, two sacks, one INT, two PBUs, five QB hurries, one forced fumble and one fumble recovery, as well as four tackles on special teams.
Before the regular season kicked off for the Chiefs, Zombo had already made an imprint with his new team. Having played the previous three years in Green Bay, Zombo faced his former employer in the Chiefs final preseason game of 2013 and he made the most of it, intercepting a pass attempt by Packers QB B.J. Coleman, returning it 27 yards, setting up a Kansas City field goal in the team's 30-8 victory.
Zombo continued proving his value to the team, throughout the season, including a key special teams play against the Cleveland Browns in Week 8. Leading 20-17 in the fourth quarter, the Chiefs were forced to punt to the Browns return man, WR Davone Bess, who fumbled and Zombo made him pay, recording his first-career special teams fumble recovery, during the team's 23-17 win.
Seven weeks later, facing the Chiefs bitter rivals, the Oakland Raiders, in the "Black Hole", Zombo again proved opportunistic, reading the eyes of Raiders QB Matt McGloin for the pick and a five-yard return. It was one of five Kansas City interceptions on the day and marked Zombo's first interception of the season and the first of his career. Zombo led all Chiefs defenders with seven solo tackles in the 56-31 victory.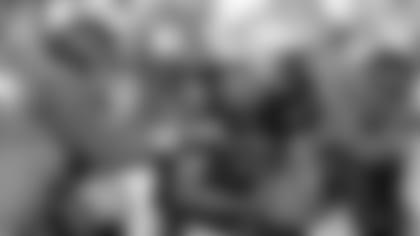 The plays above were just a few examples of Zombo's talent, which convinced the Chiefs brass to keep him in KC. Whether playing the back-up role or in the starting spot, as well as on special teams, Zombo will continue to make the most of every opportunity he's afforded in the coming season.