It's impossible to tell the story of the Kansas City Chiefs without chronicling the seasons that took place during the early 2000s, which was an era characterized by electric moments and unforgettable playmakers who forever cemented their place in franchise history.
There was the 27-touchdown season by tailback Priest Holmes, the emergence of "the Human Joystick" in return man Dante Hall, the redefinition of the tight end position by Tony Gonzalez, the steady leadership of quarterback Trent Green and so much more. This was a stretch of football that forged an entire generation of fans, and at the helm for much of it was legendary head coach Dick Vermeil.
Vermeil was selected for induction into the Pro Football Hall of Fame on Thursday, which promises to forever immortalize his incredible career in Canton. His time as a head coach included stints in Philadelphia (1976-82) and St. Louis (1997-99) – winning Super Bowl XXIV with the Rams – prior to taking over in Kansas City ahead of the 2001 season, where he went on to engineer one of the top offenses in the league for years to come.
The Chiefs led the NFL in scoring offense in both 2002 and 2003 before ranking second in 2004 and sixth in 2005. In fact, during that four-season span, the Chiefs scored the most total points in the league and 80 points more than the next-closest team. The Chiefs' rushing attack was a big reason behind that success, as Kansas City rushed for a league-most 115 scores during that time.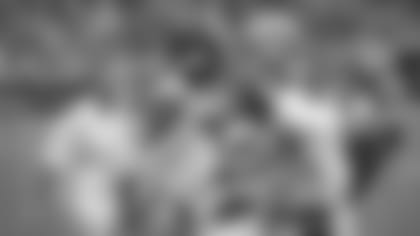 Vermeil oversaw sustained success from players such as Green, Holmes, Hall, Gonzalez, fullback Tony Richardson and wide receiver Eddie Kennison among many others. He also helped mold what went on to establish itself as one of the best offensive lines in league history, which was a group that featured numerous future Pro Football Hall of Famers.
That collective success all culminated in a tremendous campaign in 2003 – Vermeil's third season in Kansas City – that featured an undefeated start through nine games and an eventual 13-3 record. It marked the lone postseason berth for the Chiefs under Vermeil, and while Kansas City didn't reach its ultimate goal that year, the culture established under his leadership was undeniable and still echoes today.
Vermeil helped bring about some of the most exciting moments in franchise history up to that point, and now all these years later, his incredible career is officially among the best of all time.