As the 2016 NFL Draft continued through the weekend, the NFL extended coverage on day three, as all 32 teams announced picks from special locations around the world, ranging from team facilities and international stadiums to local high schools.
As part of day three, the Chiefs, in partnership with USAA, celebrated military families at Whiteman Air Force Base located near Knob Noster, Missouri.
Whiteman Air Force Base is home of the 509th Bomb Wing and the Missouri Air National Guard's 131st Bomb Wing. The base is also the home of the 442d Fighter Wing of the Air Force Reserves and the Army National Guard's 1-135th Attack and Reconnaissance Battalion.
In their first year of hosting the club's draft festivities, more than 2,500 Whiteman-based military members and their families attended the event alongside current and former Chiefs players and season ticket members.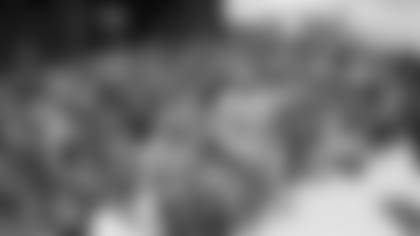 "We're really pumped here at Whiteman that the Chiefs came out here to hold their draft party," Technical Sargent Heath Curless, the serviceman who announced Kansas City's 105th overall draft pick, said. "It's very humbling because it shows that the Chiefs community and the Chiefs organization cares about the military and what we do for this country. It's really nice that they respect that."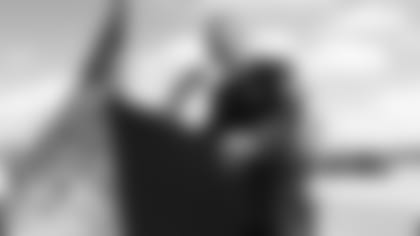 In addition to the day's festivities, those in attendance witnessed a high-noon B-2 Stealth flyover in honor of the event.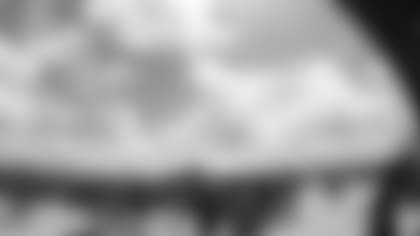 Current players in attendance included Jamaal Charles, Charcandrick West, Chris Conley, Kashif Moore and Jarrod Pughsley, and they were joined by former players and Chiefs Ambassadors Shawn Barber, Curtis McClinton, Chris Penn and Tony Reed.
Together, the current Chiefs and the alumni experienced the B2 Bomber Simulator—a virtual look at what it is like to fly the world's premiere stealth bomber.
"[We're] continuing to show the great bond between the Chiefs and the Military," said the Chiefs U.S. Army Liason, Jon Rittenburg. "Whiteman Air Force Base has tremendous connections to Chiefs Kingdom and it is great to give back as they provided two of our flyovers last year with the B2 and A-10."
The event also included autograph sessions, football-themed activities and games, Play 60 activity stations and more.
Two season ticket members of 15 years, Steve and Linda Long, were amongst the select members to experience draft day at Whiteman and they said their experience was unlike any other.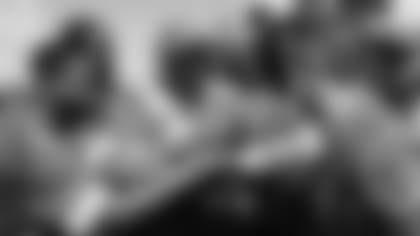 "This is the first time I've ever been on a military base. I didn't know what to expect but I'm glad I did it, and I thank the Chiefs for it," Linda said.
"It's been a great day. The best fan experience, hands down." Steve added.