It's been nearly two months since Kansas City Chiefs general manager John Dorsey and head coach Andy Reid introduced Alex Smith as the team's new QB, following a trade with the San Francisco 49ers. Having gone through voluntary workouts, it's been business as usual for the team's new signal caller.
"It's been football for the most part," Chiefs QB Alex Smith said. "Besides living out of a hotel and commuting back on some weekends to see my family, just football. It takes a little while to get acclimated but the longer you're here the better you feel, the better you feel about the guys in the locker room; you start to build some relationships and then about the football, you're getting more comfortable with it, that's why we're here. The longer you're in the system the better you feel. The coaches keep pushing us, so, it's good work."
While playing for the San Francisco 49ers, Smith teamed with Pro Bowl LT Joe Staley, who played collegiately at Central Michigan University, the same school as the Chiefs top draft pick in 2013, Eric Fisher.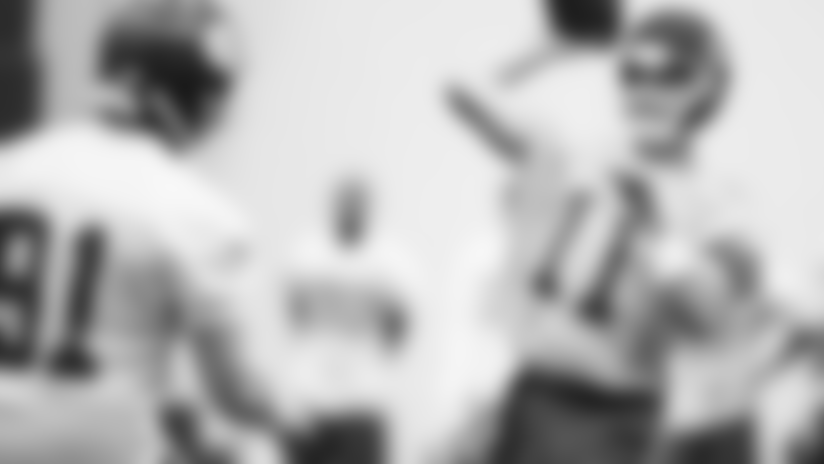 "I had heard about him from Joe Staley out in San Francisco, all leading up and then even after the trade, Joe kept telling me, 'I think you guys ought to go with my guy (Eric) Fisher'," Smith said. "Joe's a great guy and he's obviously a tremendous player and he speaks and thinks very highly of Eric."
The former #1 overall pick of the 2005 NFL Draft, Smith was able to share his experience and insight with Fisher.
"I got a chance to talk to him after he got drafted," Smith said of Fisher. "It was quick. I know what that's like, being out there and it's a surreal deal and you're getting pulled in a thousand different directions, talking to every media in the country. I just tried to tell him to take it all in, enjoy it for a couple days, because that's all you're really going to get. It's going to be 'get to work' and come in here and you're going to be expected to perform at a high level and come in and play. So, take it all in, catch your breath for a couple of days, while you can."
There were also a few laughs exchanged between the new Chiefs teammates.
"(I) congratulated him and had a couple cracks about the (Central Michigan) Chippewas, seems like I can't get away from them, but if he turns out anything like Joe (Staley), it'll be a good thing," Smith admitted.
Alex hasn't been the only one giving the Chiefs top draft choice advice, especially on how to handle the questions about playing at a "small school" like CMU.
"I know he's been talking to and really helping out Eric through the draft process and kind of what to expect coming into his rookie year," Smith said of Joe Staley. "It's another guy to have as a sounding board for him. If you have the talent, it doesn't matter where you came from."
Smith will get his first look at Fisher in person soon; the rookies report for their minicamp on Thursday, before the team's OTA begins May 14th.
Check back on Tuesday for Part II of the interview with Alex Smith, who praised the Chiefs loyal fans and shared his thoughts on the team's acquisition of Tennessee QB Tyler Bray.