Kansas City Chiefs QB Alex Smith didn't care that the skies were again overcast during practice on Monday; likely because his accurate throws would've outshined the sun, had it made an appearance.
Smith was on-point, nearly perfect, unofficially completing 17 of 20 passes for three TDs during the roughly two-and-a-half hour practice.
"It's a reflection of the group," Smith said. "O-line was great today; it starts with them. They did a good job communicating, especially in the blitz period, third down, everybody was on the same page and then there were guys making plays outside. We got off to a good start but really, I think the spark came from the guys up-front."
Among the many pass-catchers Smith connected with on Monday, Chiefs TE Anthony Fasano continues to play at a very-high level. Smith threw to Fasano three-straight times, late in practice, including one TD.
"He's such a dependable guy, so reliable," Smith said of Fasano. "He has such a great knowledge of the game, a great feel for it, defenses and how they're playing him and he uses his body so well. He continues to make tough catches. He's what you're looking for in a TE, that reliable guy that continues to be open, time after time."
Another of Smith's targets was Chiefs WR Dwayne Bowe, whose best catch on Monday was a one-handed grab for a score.
"That's just him making me look good," Smith said. "There's not much to it. I threw it up there and let him do the rest."
Bowe described the play from a different perspective.
"No, man," Bowe said of Smith's pass. "He put the ball right on the outside; he saw the inside leverage, and our job is to catch the ball; it happened to be a one-handed catch, but it was a great pass by Alex."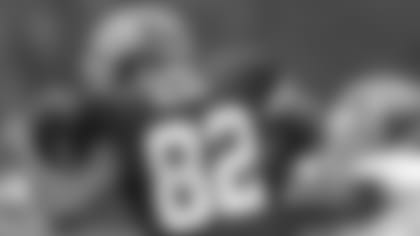 Bowe also shared how he's feeling just days away from the team's first preseason game of the year.
"I'm feeling good," Bowe said. "We're going against the best every day at practice, so when we get to the games, we will be ready."
Following Smith, Chiefs QB Chase Daniel stepped in Monday and continues to move the ball effectively, highlighted by his completion to a determined Chiefs TE Tony Moeaki on a third-down play in the red zone.
"Chase did a great job of getting the ball out quick," Moeaki said. "I was just trying to get the ball vertical and it was a third-down play, so getting the first down in the red zone, that's huge. We as a TE group feel that's where our number should be called; we're just trying to help the team score."
Later in 11-on-11s, Chiefs QB Ricky Stanzi closed out the drill with a beauty of a throw for a TD to Chiefs rookie WR Frankie Hammond Jr.
"It was a great throw by Ricky," Hammond Jr. said. "I kind of pinned the guy inside and he just made a great throw and I went up and got it."
Like the other Chiefs rookies, Hammond Jr. is ready and waiting for his opportunity to shine on Friday night.
"Definitely," Hammond Jr said. "It's just 'lay it out all on the table'; you'll only get so many opportunities in these preseason games, so when we get out there, we have to make the most of them and go out there and play hard."
The team played hard yet again today, which caught the eye of Chiefs head coach Andy Reid.
"Good work today," coach Reid said.
"This is our fifth day in a row of full contact and going. This is our longest stretch; we'll have another day tomorrow. So, the guys pushed through a big red zone day today, big 3RD-and-long day today. I thought they traded back and forth, challenging each other and working hard."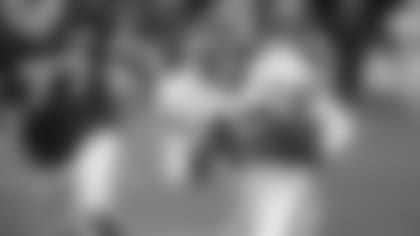 Part of the hard work paid off for the defense in 11-on-11s, when Chiefs DB Otha Foster III was in the right place at the right time for his pick-six INT.
"I was playing free," Foster III said. "The guy dragged across and the QB threw it to him, bounced off his shoulder and landed in my hands. We were going full contact, all the way, tackling to the ground and that's why I ran it all the way back."
Foster hopes to carry the defensive momentum with him into Friday's road game against the Saints.
"I feel good about that because it's close to my hometown in Louisiana," he said. "I'm going to have a lot of family there and they love the Saints, except when I'm playing; they'll be on my side (on) Friday." The Chiefs return to the practice field tomorrow, before a day off on Wednesday, travel day to New Orleans on Thursday and then, the real fun begins Friday night at 7:00 PM CDT, from the Mercedes-Benz Superdome.