By all accounts, Kansas City Chiefs' quarterback Alex Smith should be the leading candidate for the NFL's MVP Award through five games. He's got the numbers and he's passing the eye test as well.
Not only is he having the best year of his career for the NFL's only undefeated team, Smith leads the league in several categories, including completion percentage (76.6 percent), which if it keeps up, would shatter the all-time NFL record that's currently held by the Minnesota Vikings' Sam Bradford (71.6 percent, 2016).
Combined with completing a historic-level of passes is the fact that Smith also leads the league by averaging 8.80 yards per passing attempt, which means he's throwing the ball down the field and picking up chunks of yards while maintaining his efficiency.
As a whole, the Chiefs' offense ranks second in the league by averaging 414 total yards per game.
And to go even a step further, according to Pro Football Focus, Smith leads the league with a passer rating of 142.0 on passes that travel at least 20 yards in the air (11 of 19 for 440 yards and three touchdowns).
Those are the numbers—the stats, the box score-scouting analysis that many determine a quarterbacks' success by wholeheartedly.
But the other side of it is the eye test, the tape, the ability for a quarterback to elevate his level of play when his team needs it the most.
In this area, Smith is also thriving.
During Sunday night's 42-34 win over the Houston Texans, Smith and the Chiefs' offense were asked to answer the bell early in the fourth quarter when momentum seemed to be siding back with the Texans.
After a 48-yard touchdown strike from Texans' rookie quarterback Deshaun Watson to standout second-year receiver Will Fuller brought the game to within six points early in the fourth quarter, which was after the Chiefs held a 16-point halftime-lead, Smith responded by leading the Chiefs' offense down the field on a six-play, 70-yard drive that culminated with a 10-yard touchdown pass to De'Anthony Thomas.
"I thought that was a critical point in the game," Smith said after the game. "It was a six-point game at that point—critical for us to answer, and our guys, there wasn't a bunch of 'raw-raw' stuff on offense. I think guys knew it. Felt good about what we were going out there to do and I thought we stayed in the moment.
"You know, we're locked in and we went out and executed, so I thought that was a big answer for sure."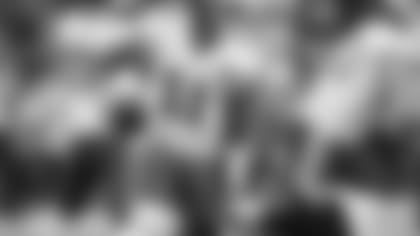 Smith was 3 of 3 for 43 yards on that drive, which was arguably the biggest sequence of plays in the game.
"I think we have a confidence about us that even when we do get little spills and things don't go our way, we still can find a way to go back to being us," Smith said. "We can figure it out. We have the guys to do that. We have the coaches to do that and I think we have the confidence in that.
"As far as the numbers go, I think that I'm sort of flexing the guys around me. We have a bunch of guys that make plays. We all saw that tonight. Sometimes it just goes that way."
Through five games, Smith is averaging 278 yards passing per game, and he's tossed 11 touchdowns and hasn't thrown an interception, which is the best ratio in the league. Last year, Smith's 11th touchdown pass didn't come until Week 13.
When asked of his quarterbacks' success this year, Chiefs' head coach Andy Reid said it's about the trust in the guys around him, particularly the young receivers he's worked with for the last couple of years.
"All of these kids he kind of raised," Reid explained. "He knows about every move they've got. They like playing with him and they know every move he's going to make. It's kind of a good marriage right there.
"He extended the play and made some plays. His eyes were down the field seeing things, he knows where everyone is at and where they're going. When I say playing together, that's kind of the thing there. Just trusting these kids. It's kind of fun to watch."
After the game, Smith, as per usual, credited the guys around him for allowing him to make plays, particularly the guys up front. It's a group that was down two starters with starting center Mitch Morse missing another game because of a foot injury, and right guard Laurent Duvernay-Tardif missing because of a knee injury.
"It was clean," Smith noted. "Felt like I had a lot of time, and you're able to look downfield and really, I think, stretch defenses and make some of those throws."
With Zach Fulton starting at center once again and Cam Erving making his Chiefs' debut starting at right guard after coming over in a trade with the Cleveland Browns during the preseason, Smith was sacked just one time and hit only three times Sunday night.
"It's the next man up," Smith said. "You've got to have faith and confidence that the next guy is going to come in and play, and play to a high level and not skip a beat."
"We expect them to do the job," Reid added. "We're lucky enough we have enough depth to be able to do that."
It helps when you have a quarterback playing at the level Smith is right now, which is that of an MVP—both by the stats and by the eye test.