While the 95-degree temperature at Chiefs practice on Monday afternoon could serve as a foreshadow of the type of conditions the team will face in its week-one season opener in Jacksonville, Chiefs head coach Andy Reid made it very clear that his focus is on preparing for the visiting Green Bay Packers on Thursday.
"I don't ever look past games," coach Reid said following Monday's morning walkthrough. "That's not how I go about it. We'll get ourselves ready for Green Bay and then we'll take that next step and get ready for Jacksonville. So right now, that's what we're thinking."
Now having three preseason games in the books, the Chiefs have a better feel for each other and the collective weapons the team can use in the coming weeks. For example, entering Saturday's win against the Steelers, Chiefs WRs Dwayne Bowe and Donnie Avery saw limited targets; however, following the 26-20 OT victory in Pittsburgh, both receivers combined for 17 targets and 12 receptions for 127 yards.
"We tried to get it to them (previously)," coach Reid said. "I don't want to say we didn't try to get it to them, that kind of was what the defense alluded itself to. We made plays and we caught a lot of footballs. It was a good thing. They had what six catches? So, I would say that is a good thing and it will increase as the season continues."
Chiefs QB Alex Smith also reflected on the duo's involvement Saturday night.
"Nice to finally get them engaged a little bit," Smith said. "Dwayne was drawing a lot of attention the first couple of preseason games. We're going out there and playing and we're not game planning for those defenses. [We] put a little plan together this week, so it was good to get them involved."
Avery commented today about his involvement against the Steelers.
"It felt good, getting out there with the first team," Avery said. "Running routes and getting chemistry with #11".
As for the peformance of "#11", coach Reid evaluated his QB by first citing some of his stats from Saturday night.
"He was 17-for-24 and a 102.4 quarterback rating, so I'd say that's a pretty good day," coach Reid said. "I thought he was accurate and competitive. I thought he managed things well. A lot of those plays we turned over to him and he put on what he thought he saw there. I thought he did a nice job managing that and getting us in and out of good plays."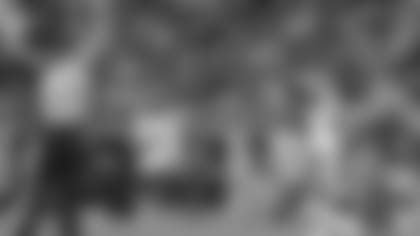 One such good play capped off a 72-yard drive before the half and ended in the gloved hands of Chiefs WR Junior Hemingway for a TD.
"We huddled, he called the play and I went out there, making sure I had everything right, my split, made sure everything was right," Hemingway said of his second-quarter TD from Smith. "I was looking at the coverage and I ran it off the coverage, the way that defense was playing me and I ran the route and it came open and he hit me with the pass."
During coach Reid's presser on Monday, he spoke to Hemingway's play, as of late.
"He has done a nice job," coach Reid said. "He had a pretty good game the other night. I think there are a couple of plays that he would like to have back, but other than that, he got a touchdown and a couple of great catches. He is coming. He's another one of those kids that needs to keep playing and good things will happen. This next couple of weeks are obviously important. The practices are important."
In practices, Hemingway has continued to get reps with Alex Smith, whose leadership and poise in the pocket continue to create opportunities for the offense.
"That's what he does," Hemingway said of Smith. "Just to stand back there in the pocket, make the throws when he needs to make the throws and then make the checks, point out the mike (backer) to help the linemen, he has to know everything. He's just an all-around QB; he's going to stick in there and he's going to get us the ball, because he knows we're trying to win just like he's trying to win, so he's going to do what he needs to do to do it."
While seeing improvements in the passing game, Smith remains his own biggest critic.
"I definitely think we've done some good things, did some really good things in training camp," Smith said during his postgame presser. "I think we've put together some good things at times out here in the preseason. The passing game, like anything, it's nothing you're ever totally satisfied with. You're constantly critiquing and detailing. So it's a never-ending process. We're right in the middle of it and we're going to continue to try to get better."
Smith and the Chiefs continue improving tonight in meetings, before returning to the practice fields on Tuesday.