From Pro Football Hall of Famer Bobby Bell to legendary tailback Priest Holmes, representatives from seemingly every era of Kansas City Chiefs' football came together on Friday night to support dozens of local charities.
It was all part of the Ambassador Gala, which took place apart from the annual Ambassador Golf Classic for the first time this year in an effort to rally additional support for causes right here in this community.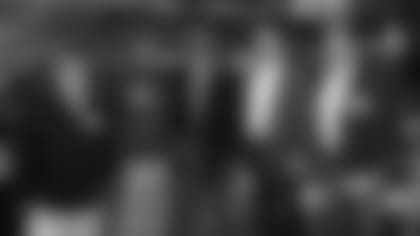 More than 400 guests made their way to the event for an evening of complimentary food and drink from local vendors, a silent and live auction and, of course, the chance to meet some of the very best players in Chiefs' history.
The list of participating vendors was impressive on its own, as The Monarch Bar, Red Door Woodfired Grill, Garozzo's, Rancho Grande Cantina, O'Dowd's, Old Shawnee Pizza, Porto Do Sul, Sohaila's Kitchen, Burnt Finger BBQ, Nothing Bundt Cakes and Panache Chocolatier all contributed to the event free of charge.
In total, the gala raised $100,000 for the Ambassador Charitable Foundation, which distributes dozens of grants to local charities.
"Anytime you ask Kansas City to be charitable, they come and they come in droves," said Ambassadors' President Tim Grunhard. "We're just really excited about the idea of having all of these people here together in the same room raising money for some great charities."
And what a turnout it was. Those in attendance included Chiefs Chairman & CEO Clark Hunt, Chiefs President Mark Donovan, a handful of current players and 40 Chiefs' alumni – all together to support worthy causes here in Kansas City.
The night also included a moving tribute to Chiefs' legend Walter White - who passed away last month – and a panel consisting of Bobby Bell, Dante Hall, Shawn Barber, Mike Bell and Trent Green discussing their favorite memories of playing in the red and gold.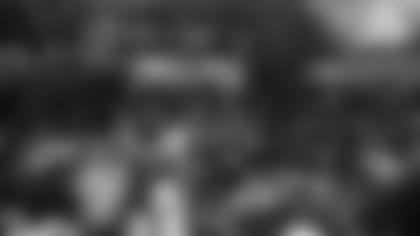 On hand for all of it were representatives from Big Brothers Big Sisters, who have teamed up with the Ambassadors in each of the last three years.
"We truly are partners – we participate in Ambassador events and they are amazing advocates for us and our mission," said Micheal Lawrence, CEO of Big Brothers Big Sisters of Kansas City. "They not only raise funds for Big Brothers Big Sisters, but they recruit volunteers. They're always telling our story, encouraging each other to get involved and looking for opportunities to bring others in the community in to our mission."
Their story was one of several that echoed throughout the event space on Friday night as hundreds from all walks of life came together for a common cause.
The Ambassadors' playing days may be over, but their impact is still being felt to this day.
"We're Kansas City Chiefs and we always will be," Grunhard said. "We love our community here in Kansas City. This is where we live and where we decided to stay."
To learn more about the Chiefs Ambassadors, click here.