A pair of close friends made their way onto the Arrowhead grass on Sunday, keen on watching the Kansas City Chiefs prepare for the biggest game of the season.
There was teenage Sean, a local high school student and aspiring young athlete who hopes to play college football at Kansas State someday, and his big brother, Charles Pigneri, here on this chilly December afternoon - though these two are not related by blood.
It's much more than that.
Pigneri took Sean under his wing six years ago as part of the Big Brothers Big Sisters program, which seeks to serve young people in need of positive role models in their lives.
It was a decision rooted in Pigneri's understanding of how his grandfather, a Big Brother himself, impacted a stranger's life for the better.
"It had been tugging at my heart to get involved for quite a while," Pigneri said. "I talked to my grandfather's Little at his funeral, and it just always kind of impressed me how he made a difference in their life. Money and checks are important, but I wanted to get involved in a deeper way."
Pigneri elected to do just that when he asked Sean, whose interests in sports caught the eye of this former college baseball player, to be a part of his life.
"I'm kind of living a second childhood through him," Pigneri said. "He's become a part of our family."
That's meant weekly interactions - from trips to the movies or out to eat - and, of course, to nearly all of Sean's athletic endeavors. It's the kind of dedication that earned Pigneri "Big Brother of the Year" honors in 2017.
"Our relationship has meant a lot to me. We've gone through a couple of location moves – I'm down in south Johnson County and he's over in Independence – but we've kept the relationship really strong," Pigneri said. "I try to get together with him once a week to do a number of things, and now that he's involved in football, basketball and track, I try to make as many of his sporting events as I can."
It's that shared interest in athletics that prompted Sunday's trip to Arrowhead, which the pair was informed of only a few days prior.
"I called Charles and told him that [Chiefs Chairman and CEO] Clark Hunt really admires our program and wanted to treat some Bigs and Littles to a game," said Micheal Lawrence, CEO of Big Brothers Big Sisters Kansas City. "I told him I just had two questions, 'Are you available this Sunday and, if we coordinate a Super Bowl watch party, would you be available?'"
Unaware of the second question's true intentions, schedules were cleared. They were going to the game, sideline passes in hand.
"It was all just really cool because Sean loves football," Pigneri said. "We walked through the tunnel and got as close as we could to see the guys warming up. It was awesome."
The duo took photos, examined the team's preparation and even saw legendary former K-State head coach Bill Snyder, who was serving as the Chiefs' drum honoree for the game.
"That was probably as big a deal for Sean as seeing Andy Reid walk right in front of us," Pigneri said laughingly.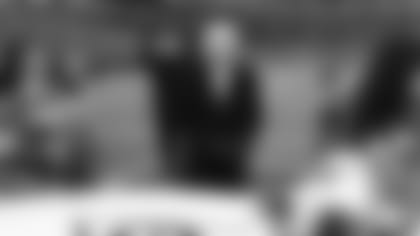 It all wrapped up into an unforgettable experience on its own, but as their fellow fans began leaving the field, Pigneri and Sean were told that there was one more surprise awaiting them.
"We thought that was it," Pigneri recalled. "We'd just head up to the field box and take our seats, but then somebody with the Chiefs asked us to come stand by them for a minute."
They were waiting for none other than Hunt, who had learned of the pairing's story and wanted to meet them in person.
"He just said, 'Hey, I've been thinking a lot about your story and I'm so glad you could join us today,'" Pigneri remembered from the conversation. "We talked to him for a few more minutes after that - he asked Sean a lot of questions – and then he started to wave somebody over."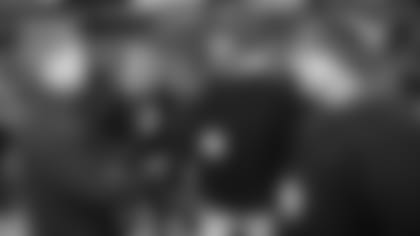 Hunt was given two pieces of cardboard, which he then held in front of his unsuspecting guests.
"He went, 'I have one little surprise for you guys before you head up to your seats,'" Pigneri recalled. "Sean and I just looked at each other and asked what he had for us. He goes, 'How would you two like to go to the Super Bowl on us?'"
The pieces of cardboard were oversized tickets to Super Bowl LIII, and they were going.
"It was just surreal. We did not see that one coming," Pigneri said. "It was just awesome. We posted some pictures on Facebook and we've had more than 300 people comment on it."
The surprise was meant as a reward for both Pigneri and Sean, who was named the organization's first-ever "Voice of Potential" this past year and serves as a representative for Little's in the program.
"We just admire Sean's attitude, his approach to life and his leadership skills – all of those things – and he's also a tremendous student-athlete," Lawrence said. "He has this great character but also a real passion for sports, which Charles and Sean have really used to build their relationship.
"We just couldn't think of a better duo to take in a moment like this."
That moment was realized on Sunday, but it wasn't meant as a conclusion. Rather, as Pigneri put it, the surprise was just another step in Sean's journey.
"I don't really want to call it a culmination, because I don't think his story has been written yet," Pigneri said. "I've always been a big believer that there are no guarantees in life, but the one thing that I think folks should focus on is what they can do to make somebody's life better. In this case, I wanted to focus on younger individuals and do whatever I could to give them an opportunity."
Sean ran with the opportunity that Pigneri gave him six years ago, leading to this chilly afternoon at Arrowhead Stadium and the two tickets the duo now owned.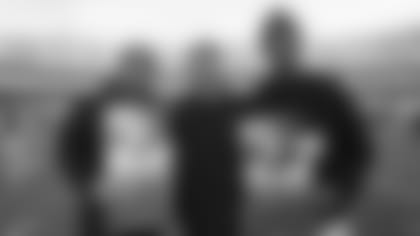 The pair departed the field following the surprise, still in disbelief at what had just occurred. They cheered on the Chiefs from their field box, on hand for a convincing victory over Oakland that locked up a third-straight division title.  
It was simply a special afternoon, but in the end, it wasn't about the game or even the tickets to the greatest sporting event in the world that they now found in their possession.
For Pigneri, it was – and has always been about – making a difference in a young person's life.
"I'm hopeful that he'll always view me as one of his best friends," Pigneri said. "I'm just so excited to see where he goes from here."
The next stop is Atlanta, and they're going together.