The Kansas City Chiefs announced this week that they've hired former NFL quarterback Mike Kafka to their staff as an offensive quality control coach.
Here are five quick things to know about Kafka:
1.     Played QB at Northwestern
Kafka grew up in Chicago and attended St. Rita's High School before making his way to play quarterback for Northwestern, where he spent four years with the Wildcats (2006-09).
Kafka still holds the school record for passing completions (47), attempts (78) and yards (562) from a 2010 game against Auburn.
Overall, Kafka still ranks 10th in school history with 5,152 yards of total offense in his career.
2.     Was Drafted by Andy Reid in 2010
Following his four-year career at Northwestern, Kafka was selected by the then-head coach of the Philadelphia Eagles, Andy Reid, in the fourth round of the 2010 NFL Draft.
Kafka spent two years with Reid and the Eagles, finding action in four games in 2011 and completing 11 of 16 passes for 107 yards with two interceptions.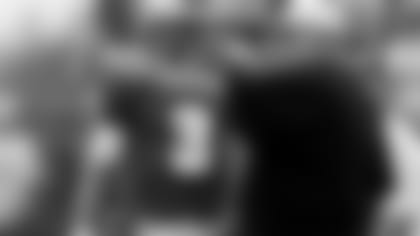 3.     Spent parts of six years with seven different teams
After his time with the Eagles was over, Kafka spent time with the Jacksonville Jaguars, Tampa Bay Buccaneers, Minnesota Vikings, Tennessee Titans and Cincinnati Bengals, although his only time on a 53-man roster was with the Eagles in 2011.
Kafka's last stop was with the Bengals in 2015.
4.     Began coaching career in 2016 at his alma mater working with wide receivers
Last season, Kafka returned to Northwestern as a graduate assistant to work with his former head coach, Pat Fitzgerald, who said at the time he wasn't surprised to see his former quarterback pursuing a career in coaching.
"Mikey was very interested in coaching when he was done," Fitzgerald explained. "He lasted six years (in the NFL). That's a heckuva run. I'm really happy for him with his career and happy to have him back. It's good to get him started."
Kafka was one of four graduate assistants at Northwestern and worked with the receivers.
5.     Hoping to follow similar paths of other former quarterbacks under Reid
It's not the first time Reid has hired a former quarterback of his to the coaching staff.
Current Philadelphia Eagles head coach and former NFL quarterback Doug Pederson played for Reid in 1999 with the Eagles and was later added to his staff as a quality control coach in 2009, which was Pederson's first coaching position above the high school ranks.
Overall, there are a handful of coaches on the staff who at one point or another in their playing careers had played for Reid, including secondary and cornerbacks coach Al Harris (Philadelphia Eagles, 1999-2002), tight ends coach Tom Melvin (San Francisco State, 1983) and running backs coach Eric Bieniemy (Philadelphia Eagles, 1999).
While he never played for Reid, one of the two co-offensive coordinators for the Chiefs— Matt Nagy— was also a college quarterback (Delaware) and spent two seasons as an offensive quality control coach (2011-12) with the Eagles under Reid.
Kafka finds himself in a good spot that has shown a history of helping coaches get their starts.