The Kansas City Chiefs planned to fly to Jacksonville on Saturday and not return to One Arrowhead Drive on Sunday without giving Andy Reid his first win as the team's head coach.......mission accomplished.
The only thing that overshadowed the tremendous on-field performance by the Chiefs on Sunday was their reactions in the locker room afterwards, highlighted by the excitement for coach Reid, each other and their fans.
"I don't even want to take these pads off," Chiefs T Branden Albert said. "I just want to go around the whole locker room and say 'good job' to everybody and I mean coaches, players, personnel; this is a long time coming, but we're not finished yet. We have a long road ahead of us, a lot of things to improve on, but getting this win, it's been a long time for me. I feel happy. I feel good."
Another happy offensive lineman was Chiefs rookie Eric Fisher, who described the team's win in three words.
"This was fun," Fisher said. "I remember running out after Tamba (Hali) got that pick and I was like, 'Man, I miss this'. It's a great feeling to get some momentum and now, we're just looking forward to next week."
Following the game, the "Voice of the Chiefs" Mitch Holthus said it best, the team has an "undercurrent of confidence" and expected this type of a result, especially after putting forth the tireless work in the offseason, into training camp and continuing in Sunday's win, which happened to also be Alex Smith's first victory as the Chiefs QB.
Smith finished the day 21 for 34 for 173 yards and two TDs (94.4 passer rating), one to WR Donnie Avery and the other to WR Junior Hemingway. Also heavily involved, both in the return game and on offense, was Chiefs WR Dexter McCluster, who finished the day with three receptions for 43 yards and seven punt returns for 80 yards.
"Right now, it's not about the stats, it's about that one thing and that's a win," Chiefs WR Dexter McCluster said. "The defense did a great job of stopping them; offense did a great job of scoring points and special teams did a great job overall. We had one mistake (on special teams), but you know what, we overcame it and got the win."
The Chiefs defense dominated the game, ending with six sacks, thanks to LB Justin Houston (3), DT Dontari Poe (1.5), DE Tyson Jackson (1) and S Eric Berry (0.5), and two interceptions, one by CB Brandon Flowers and the other by LB Tamba Hali, who returned it for the score.
The Chiefs defense didn't let up, including stopping the Jaguars on a fourth and goal from the Chiefs three-yard line with :43 second remaining in the game. Chiefs rookie LB Mike Catapano forced the Jaguars incompletion, preserving the team's 26-point win.
"You've been waiting your whole life for this, really," Catapano said. "And now, to be in front of a crazy crowd like this, with these guys lining up next to you and this defense, you couldn't ask for a better first game."
The former Princeton DE turned Chiefs LB broke down the Jaguars final scoring attempt.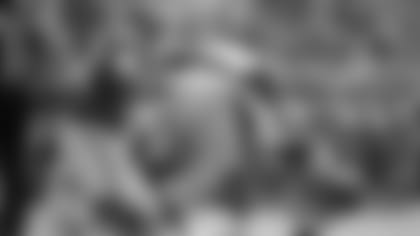 "It was a good call," Catapano said. "I knew I had a really good opportunity to come clean on that play, by the way there were protecting earlier in the game. Before the play even started, as soon as it opened up, it was like a track race to get to the QB first and I was lucky to be able to at least get a hit on him, before he threw it away."
Not to be forgotten is the play of the Chiefs special teams, including some of the newly-signed players like Chiefs LB Dezman Moses and CB Marcus Cooper, who evaluated the team's win.
"We just came in with the mindset to get the job done," Cooper said. "You come with that mindset and put your mind to it and you get things done."
The Chiefs will now enjoy the win, before quickly turning their attention to the Dallas Cowboys, who visit Arrowhead on Sunday.