During Monday afternoon's press conference, Kansas City Chiefs coach Andy Reid explained the thought process behind the offensive line that will prepare to start on Sunday against the Houston Texans.
That line will consist of Donald Stephenson at left tackle, Ben Grubbs at left guard, Mitch Morse at center, Laurent Duvernay-Tardif at right guard and Eric Fisher at right tackle.
The one noticeable difference is that Fisher, who had started all 16 games last year at left tackle, is returning to the right tackle spot he held down during his rookie year in 2013.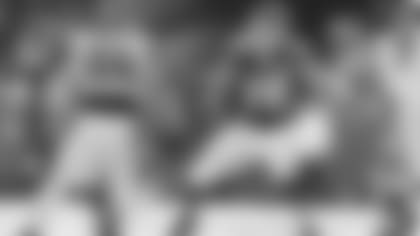 "[Fisher] gives me a whole lot of flexibility," Reid said. "I think he can play really any position on the offensive line and play at a Pro Bowl-caliber level."
Fisher has missed some time with a high ankle sprain suffered back at training camp on August 17, and Stephenson played well at left tackle in his absence.
"What I did was I just left things as they remained on the left side," Reid said. "Donald [Stephenson] has taken a bunch of reps there and so, I left him there. I put Fish back on the right side and he's played it and didn't have any problems.
"I think we have the five best guys."
Coach Reid's search to find the best five guys ultimately became a situation in which they felt better having Stephenson play a position he's more comfortable with on the left side, and letting Fisher, who they feel is versatile enough to play anywhere, hold down the right side.
"I think [Stephenson] is actually more comfortable at left tackle than he was at the right tackle," Reid explained. "I think he had some ups and downs at that right tackle spot; left tackle is where he seems to be more comfortable."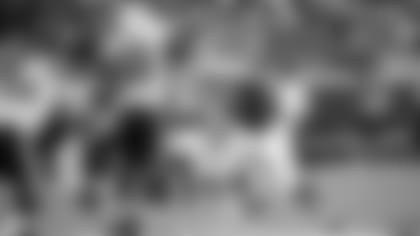 It's a move to create the best combination of players along the entire offensive line, and Reid noted the experience for the Stephenson-Grubbs pairing on the left side, as well as the Duvernay-Tardif-Fisher pairing on the right side, was an added benefit.
"I think it works out perfectly and I feel very comfortable with this group," Reid said. "I think Grubbs is tremendous for Stephenson. I think Fisher is tremendous for Larry, so I think it's a good match right there. Fisher knows the offense backward and forward. He has it down and is a very, very smart kid.
"Grubbs and Stephenson have kind of hit it off there (on the left side). That's worked. I think Grubbs is tremendous for him. You think Stephenson has played a lot, but he really hasn't played in a lot of games. I like that chemistry right there between those four."
Upon hearing the news of moving back to right tackle, Fisher was on board and willing to do whatever to help the team, per Reid.
"He was great," Reid said. "Fish just wants to play. He doesn't care. He's going to do what's best for the team and let's roll. That's his attitude.
"He's glad to be healthy again or at least on track to play again, so he's fired up about that."