The Kansas City Chiefs made NFL history in 2015 by becoming the first team to ever rally from a 1-5 start to end the season on a 10-game winning streak and qualify for the playoffs.
On Friday afternoon, Chiefs head coach Andy Reid was announced as the AFC Coach of the Year at the 46th Annual 101 Awards press conference.
"I think putting it in perspective is tough because we haven't seen anything like it before," said Chiefs team president Mark Donovan of the season Reid and the Chiefs had. "I would go back to the leadership that he showed during [the five-game losing streak]. You lose to the Bears at home, and then you go up to Minnesota and you lose that game, you have a lot of people inside the building and outside the building wondering what's up, and you need a leader at that point."
Donovan said he recalled specific speeches Reid delivered when the Chiefs were four games below .500.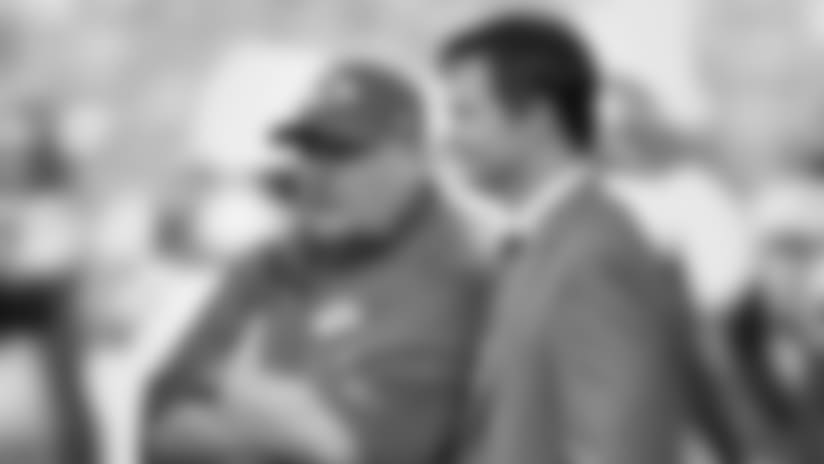 "He told the guys to trust him, that we're doing the right things and we're doing it with the right people," added Donovan. "'Just keep doing what we're telling you to do. Keep playing the way I know you can play and we're going to come out of this.'
"When you go through a process like that and you have the success that we had, it really does generate a lot of confidence, not only in this season, but also in future seasons."
2015 marked the third 101 Award for Reid, who won another with the Chiefs (2013) and once as head coach of the Philadelphia Eagles (2002).
The 101 Awards, benefitting the University of Kansas Hospital, will stage its 46th annual awards gala on Saturday, March 5, 2016, at the Westin Crown Center Hotel in Kansas City. The event is presented by Burns & McDonnell.
In addition to the national winners, the gala will also recognize two Chiefs team awards—the Mack Lee Hill Award (rookie of the year) and the Derrick Thomas Award (most valuable player).
The nation's longest-running salute to professional football, the 101 Awards, founded in 1969, has annually recognized outstanding achievement in the NFL based on votes by a selection committee of national media.