Kansas City Chiefs head coach Andy Reid and special teams coordinator Dave Toub first met at a diner in El Paso, Texas, more than 25 years ago.
At the time, Reid was working as the offensive line coach at Northern Arizona, when an old friend, Tampa Bay Buccaneers head coach Dirk Koetter, called him to interview for the same position at the University of Texas-El Paso (UTEP).
Koetter was the offensive coordinator at UTEP and had known Reid from their time together at San Francisco State a few years prior.
When Reid went to Texas to interview with Koetter and the head coach at UTEP, Bob Stull, who later would take the whole crew to the University of Missouri, Stull told his strength and conditioning coach to take Reid out to lunch to get to know him a little bit better.
That strength and conditioning coach was Dave Toub.
Fast-forward a couple of decades and the two are among the best in the league in their profession.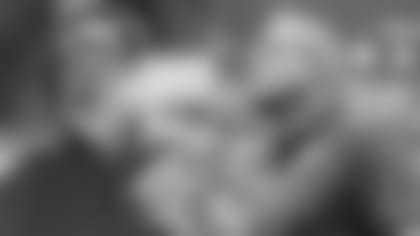 Reid is two wins shy of entering the top 10 in NFL history for wins as a head coach, while Toub's special teams units have ranked among the best in the league going all the way back to his time with the Chicago Bears (2004-12).
Here are some nuggets illustrating Toub's success as a special teams coordinator:
-          From 2004 to 2016, Toub-led special teams units have ranked in the top 10 in combined punt and kick return yards in 10 of his 13 seasons and ranked first overall in four of those seasons (including three of his four years in Kansas City – 2013-14, '15).
-          Since he took over in Kansas City in 2013, the Chiefs have the most combined kick and punt return yards in the NFL (6,508) and are tied for second in touchdowns (8).
-          Kansas City leads the NFL in punt return yards (2,128) since 2013 and ranks third in kick return yards (4,380).
-          Kansas City coverage teams have allowed the second-fewest average punt return yards (6.2) in the NFL from 2013-16.
-          From 2004-16, his punt return units have ranked in the top six in yards per return in eight of his 13 seasons, including three of his four years in Kansas City, and his kick return units have ranked in the top 10 in seven of his 13 seasons.
-          Since Reid, Toub and company arrived in Kansas City before the 2013 season, the Chiefs have allowed just two non-offensive touchdowns, which is the fewest of any team in the league over that span.
-          Through 13 games this year, the Chiefs punt coverage unit ranks third in the league by allowing just 5.0 yards per return.
-          Led by the electric rookie Tyreek Hill, the punt return unit leads the league by averaging 14.8 yards per return, and the kickoff return unit ranks second in the league with 74.3 percent of their kickoff returns gaining at least 20 yards.
While two touchdown returns by Hill on primetime television over the past three weeks have helped put a spotlight back on Toub and his special teams units, the truth is that he's been consistently successful in that third of the game throughout his career.
When speaking with the media on Monday afternoon, Reid shared his thoughts on Toub's ability as a special teams coach and how that lends itself to eventually transferring over to being a head coach.
"I'll tell you the same thing that I felt about (Baltimore Ravens head coach) John Harbaugh," Reid explained on Monday. "I think those guys are the closest to being a head coach just by having to deal with everybody, along with the media. They're as much ready as anybody to be a head coach in this league.
"Dave [Toub] understands all the different positions, he's going to play to your strength and try to work on getting you better at your weakness and kind of give you an opportunity to exploit that, to really show that off."
Harbaugh worked under Reid in Philadelphia for nine years and has gone on to have plenty of success as head coach of the Ravens. Toub actually got his start in the league as a special teams quality control coach under Harbaugh and Reid in Philadelphia (2001-03).
Under Toub so far this season, the Chiefs have scored three touchdowns on special teams, including two recent return scores by electric rookie fifth-round pick, Tyreek Hill, on primetime television.
Those two scores, along with a fumble on a kickoff that was returned for a touchdown by Demetrius Harris against the New York Jets, are part of the seven non-offensive touchdowns the Chiefs have scored this season, which leads the league in that particular category.
"We're getting scoring from all three phases, which is big," Reid added. "With Dave, I'm partial, I think he's the best in the business. He's definitely one of the best in the business. He's done a nice job with the crew that he's got. He does it in both the return and return coverage games.
"It's year-in and year-out that he puts together a good product. The guys believe in what he's doing— they buy in to it. They don't look at it as a 'special teams being over here' and 'offense-defense over here.' We're all in this together and the guys take a lot of pride in it."