The optimism for what the Kansas City Chiefs could be heading into 2018 is slowly growing as the anticipation for the Patrick Mahomes ' era in Kansas City is rising with each passing week.
While there are still lessons to be learned for and with a young quarterback—that's undeniable, and maturation still to happen as part of the evolutionary process of a 22-year-old-kid playing the toughest position in all of sports—there's also confidence in that process being an enjoyable one for everyone to witness.
"He's constantly studying, coach or no coach," Chiefs' coach Andy Reid explained of Mahomes this week while talking with the media in Orlando at NFL league meetings. "I'd expect to hit the ground running (with him). It's not one of these situations where you're going to have to back up and go, OK, he's a rookie and you've got to start from scratch—that's not where you're at with him."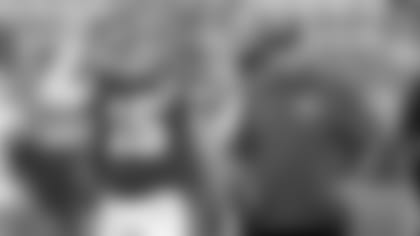 The recent moves in free agency did nothing to dissuade that promising line of thinking either—adding an offensive talent like Sammy Watkins—an electric playmaker who has been one of the NFL's top big-play threats since entering the league as the No. 4 overall pick by the Buffalo Bills in the 2014 NFL Draft. His 15.9 yards-per-reception average ranks sixth-best in the league over the past four seasons.
When combined with the natural arm talent that's been the defining characteristic of Mahomes' game since he set the NCAA on fire during his time at Texas Tech—accumulating more than 11,000 yards passing and tossing 93 touchdowns in just three seasons before being the first quarterback selected by the Chiefs in the first round in more than 30 years—the optimism is warranted, and also palpable.
Not even taking into account the fact that they're both also surrounded by two All-Pro's in tight end in Travis Kelce and receiver Tyreek Hill, and the NFL's reigning rushing champion in Kareem Hunt, among others.
The Chiefs saw a glimpse of what Mahomes could bring as QB1 with his start in Week 17 on the road against the Denver Broncos. That game displayed a number of jaw-dropping throws that people had been cautiously optimistic could translate from the pass-happy system he played in at Texas Tech—all the way to the NFL.
In addition to his game-winning two-minute drive to win the game with a number of other backups on the field, Mahomes showed Chiefs' head coach Andy Reid that the stage wasn't too big for him.
"This kid is ready to go. He's ready to go ahead and lead,'" Reid recalled thinking after that win over the Broncos, where Mahomes finished 22 of 35 for 284 yards and an interception. On that final drive—when it mattered the most, Mahomes finished 4 of 5 for 52 yards, setting up kicker Harrison Butker's 30-yard field goal as time expired.
To go one step farther in discussing Mahomes' performances that day, he finished 5 of 7 for 93 yards on third down, which included one drop on a pass in the end zone.
"He gives you the confidence that he's going to be OK," Reid added of his young quarterback.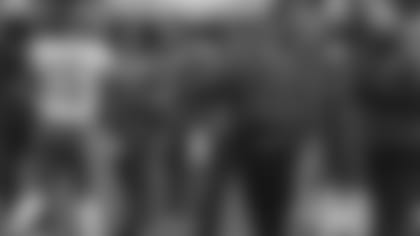 But perhaps the biggest and most-discussed storyline for Mahomes as a rookie last year, and for good reason, was the benefit he had of learning under a veteran like Alex Smith.
"He had a great teacher," Reid reiterated of Mahomes. "Alex was a phenomenal teacher for him. We weren't in the greatest cap situation, so you have to make moves like (the trade that sent Smith to Washington). Whether it's losing our corner or losing Alex, you have to make these moves.
"You always have to stay three years in advance. That's just how it works."
Looking ahead to the next three years for the Chiefs, there's a lot to be excited about.
But even before the game against the Broncos, or even before the Chiefs were able to move up 17 spots in the first round (from No. 27 to No. 10) of the draft to select him, the Chiefs had a pretty good idea of who they were getting in Mahomes—thanks to a pre-draft visit in which Mahomes was put under the microscope.
"You're going to narrow that error margin," Reid explained of evaluating Mahomes and their focus on that visit a few weeks before the draft. "We brought all those young guys in and we locked them down for six hours, and six hours in the big picture doesn't seem that long, but you're going to find out—you're going to tap into if they can he work through the fatigue of it—the love of it.
"You're going to hear all those things in there, the want to, what he knows you're going to get right into the core of it and see what they're all about. It's not an easy thing especially when you're doing six or so with those guys."
On that visit, the Chiefs obviously heard what they needed to hear after already seeing what they needed to see on the field.
After all, most football fans were aware of Mahomes' on-field abilities. He led the nation in passing in his last year at Texas Tech—tossing 41 touchdowns to just 10 interceptions while averaging 421 yards passing per game.
"We watched every snap he played," Reid added. "(Chiefs' general manager) Brett Veach had been on him from the get-go and he told me about him before he was 'Patrick Mahomes.' We had a chance to watch him play and then once you get to meet him you go, 'Wow, this guy is all about football and wants to be great.'
"Now, he's got to do it. It's all out there in front of him."