There were a lot of headlines regarding Kansas City Chiefs tight end Travis Kelce's performance last Sunday night against the Denver Broncos and the franchise record he set with 11 catches for 160 yards and a touchdown.
The pub' was warranted—anytime a Chiefs tight end passes any record set by future Hall of Famer Tony Gonzalez—the accomplishment should be noted. Gonzalez had the previous record with 147 yards against the New England Patriots back in 2000.
Kelce currently leads all NFL tight ends with 84 receptions for 1,117 yards and four touchdowns this season, recently earning the second Pro Bowl honor of his career less than a year removed from signing a contract extension.
"I think he's taken his game to another level," Chiefs coach Andy Reid said of Kelce earlier this week. "He just knows what to do. He's not out there thinking where he has to line up, which route to run and all those things. He just goes out and plays now.
"You're getting the full gamut of his skills."
Even though Kelce has been on fire in the passing game recently and now sits just 142 yards away from passing Gonzalez's franchise record for yards receiving in a season by a tight end, which was 1,258 yards set in 2004, there's another side of his game that deserves some praise as well.
According to Pro Football Focus, there are only 16 tight ends in the NFL who have earned a positive run-blocking grade this season, and only four of them also have at least 550 yards receiving.
Those players would be Travis Kelce (1,117), Jimmy Graham (858), Delanie Walker (765) and Jason Witten (664).
Kelce is getting it done in every facet of playing the tight end position at a high level.
On the first two touchdowns of Sunday's eventual 33-10 blowout victory over the Broncos, Kelce stepped up with key blocks to spring Alex Smith on the first touchdown, and then Tyreek Hill on the second.
On Smith's touchdown, Kelce was by himself in space one-on-one with the defender, while his block on Hill's touchdown will be used on a highlight film for years to come. He laid the guy out.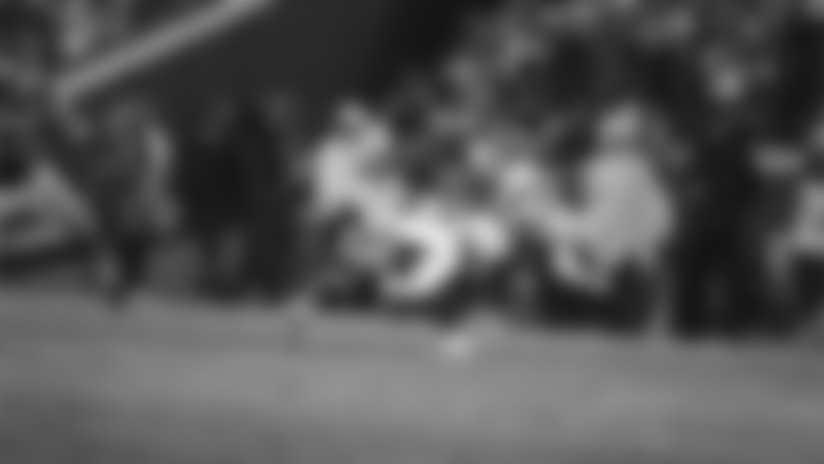 Smith spoke about Kelce's block on his touchdown run, which gave the Chiefs an early 7-0 lead.
"It's an isolation play—if we get that look and the guy crashes it's him and me on the edge," Smith explained. "[Kelce] is a premier catching tight end in the league and to have two huge blocks like that to spring guys – huge block on Tyreek's run as well that got that going – he does a lot for us.
"When you have those things from your key players on your team and in your locker room, those things rub off—those effort plays and guys giving it up. He's special. I do think he's ascending and getting better, but for him to do that I think sets a great example for the whole team."
When asked after the game about the blocks he made, Kelce seemed more focused on the ones he didn't make and how to improve those moving forward.
"Still working on it," Kelce explained. "There were some key blocks and there were a couple blocks where it was 'Bad News Bears' out there for me. I've got to keep working on it – stick to the fundamentals that we do Monday through Friday and keep playing hard for the guys that are back there running the ball.
"At the end of the day, it's a prideful matter – whether or not you're going to be able to play to the whistle and block your man for the guy behind you."